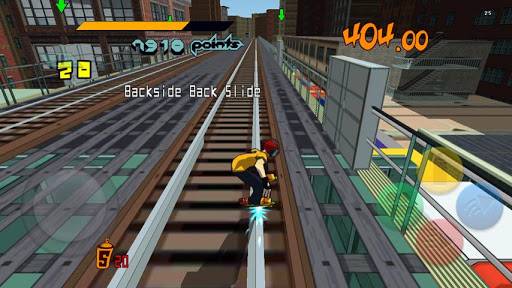 Those looking for some good old retro gaming will be pleased to know that Jet Set Radio has officially gone live on the Google Play Store. Players have been looking forward to this port for quite some time, with Sega announcing the Android version way back in July. It's here at last, and it's got a fresh coat of high resolution paint to boot.
If you owned the short-lived Sega Dreamcast, there's a pretty good chance you've already played Jet Set Radio. Known as Jet Grind Radio in the US, the game quickly became one of the most popular titles ever released for Sega's ill-fated console. Now Jet Set Radio is getting another chance at life, giving both longtime fans and newcomers to the game a new way to experience the fan favorite.
This isn't just a straight port, though, as Sega has made a number of improvements to the original game. Not only have the visuals been given a bump up in resolution, but Sega has also added some new functionality exclusive to mobile devices. Using the camera on your handset, you can take pictures and then place them in the game as graffiti. Sega also says that 29 of the original 30 songs are still present in this new version of Jet Set Radio, so if you were a big fan of the music, then you'll be happy to know that most of the songs are still present in this release.
Jet Set Radio requires that you're running Android 2.2 or above and will set you back $4.99. Just one warning, though: the total size of the game comes in at 587MB, so it'll be taking up a significant amount of space – something to keep in mind if your phone only has 8GB of internal storage and you're not using a microSD card. You can find Jet Set Radio on the Google Play Store right this minute [download link], and be sure to let us know if you're picking it up!