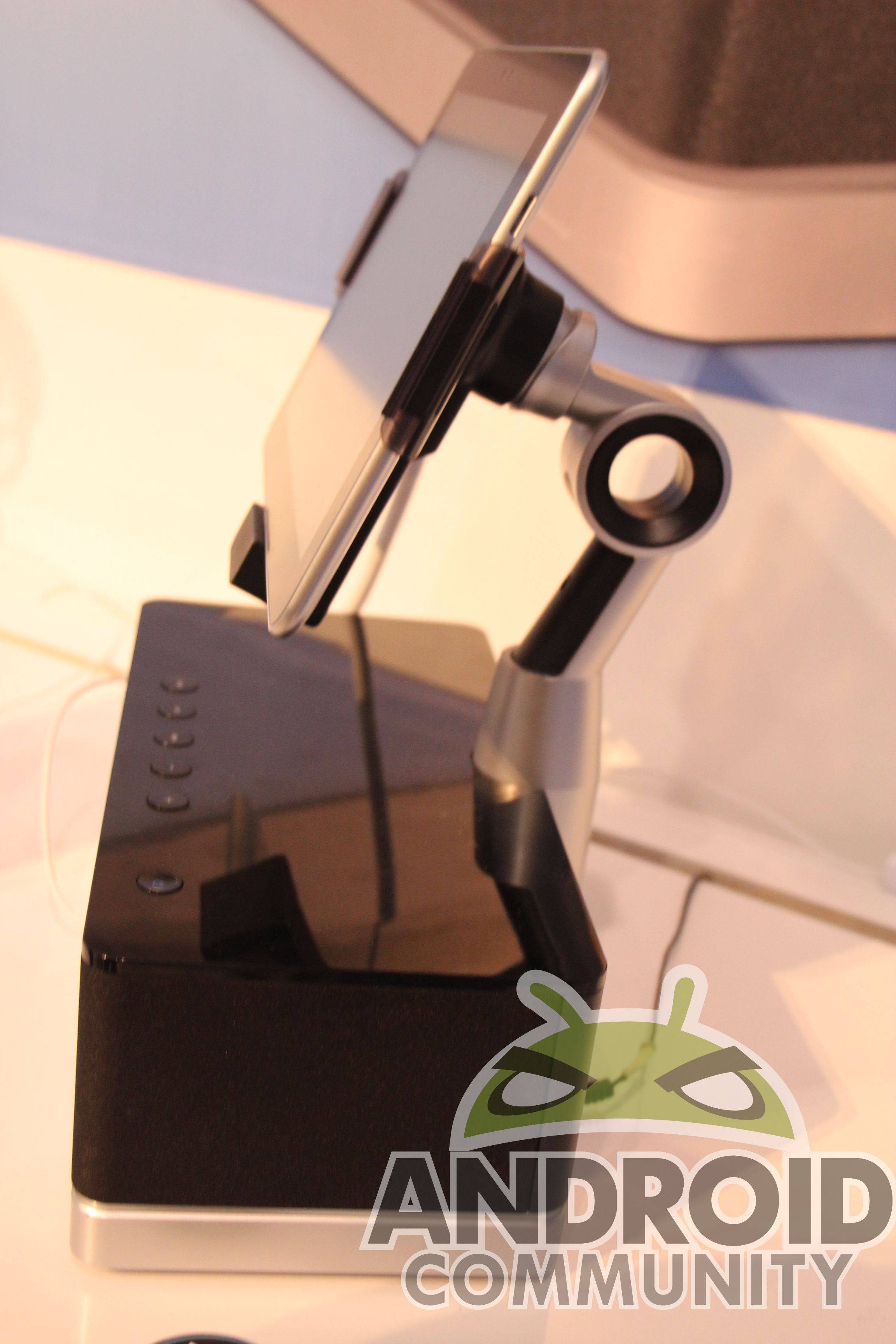 Android is growing by leaps and bounds, especially in the tablet market. iLuv, among others, has started to take notice, and will be releasing a set of speaker docks for Android phones and tablets later this year to complement its more fruity offerings. We caught up with iLuv on the CES 2012 show floor to check out three of their new models, the ArtStation Pro for the Samsung Galaxy Tab, the MobiDock and the MobiAir.
The ArtStation we've seen before: it's a speaker and charging dock designed specifically for the current generation of Samsung Galaxy Tab models. It'll work with the Galaxy Tab 10.1, 8.0, 7.7, 7.0 Plus, and their various mobile broadband flavors. The dock has a familiar design to users of similar iPad docks: a large support bracket suspends the tablet above an integrated 2.1 speaker system. In a refreshing twist (and in contrast to speakers from Philips and Logitech) the ArtStation includes music playback controls integrated into the base.
The stand is surprisingly high-end for iLuv, with a rotating and jointed arm for displaying the tablet in a different angle or in portrait mode. Sound is good and the jack connects securely to the tablet – and it should. An iLuv representative said that they were one of only three companies officially licensed to make accessories for Samsung's Galaxy tablets. for that, you'll pay a premium price: the ArtStation Pro will cost $150 when it debuts in January.
The MobiDock is a smaller, cheaper dock designed to work with most Android tablets and smartphones. It's got a sliding microUSB port and adjustable stabilizing arms to clamp the device in place while charging. The mechanism is similar to the Philips Fidelio speakers, though not as stiff.  The speakers are smaller and slightly angled, and the MobiDock doesn't include a remote control. The MobiAir is almost identical to the MobiDock, but uses a Bluetooth A2DP connection instead of a pop-out headphone jack. It includes extra controls for music playback on the top of the unit.
The MobiDock and MobiAir feel a little cheaper, but then, they are cheaper. At $70 for the MobiDock and $90 for the MobiAir, they're decent deals if you want loud, clear sound on your desktop or nightstand, especially if you have multiple Android devices. iLuv hopes to make them available early in the second quarter.