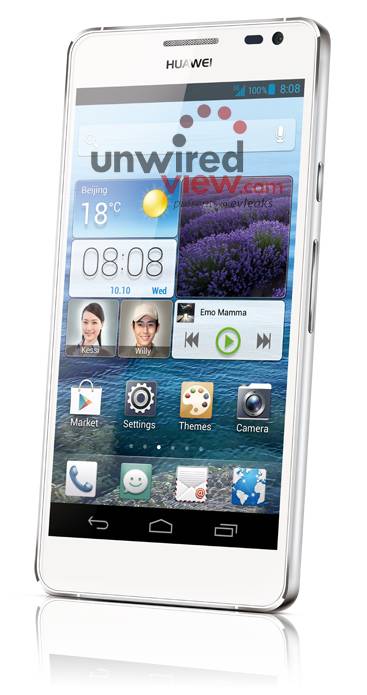 Huawei isn't doing too good of a job keeping their plans for CES 2013 a secret. We've seen multiple leaks regarding their upcoming smartphone and tablet plans. This year they have an impressive Huawei Ascend Mate 6.1-inch phablet in the works, as well as a 5-inch 1080p full HD Ascend D2 to replace the original. Today both devices have leaked yet again in a series of press materials.
We already know plenty about both these devices, as they've leaked multiple times in benchmarks as well as the actual devices themselves. For full details on both upcoming android 4.1 Jelly Bean smartphones hit the links below. The image you see above is a press render for their quad-core 6.1-inch 1080p Ascend Mate smartphone that looks to rival the Note II. With a huge display, thin bezel, and a 4,000 mAh battery we're expecting good things from that device.
Then as you see below, is another look at the Huawei Ascend D2. The original Ascend D Quad (we reviewed) was quite the smartphone, and they look to improve on it with the D2. Offering a 5-inch 1920 x 1080p full HD display, 1.8 GHz quad-core power, 2GB of RAM, and a 3,800 mAh battery for hours of usage. This device leaked earlier last week too, but this appears to be the official press image they'll be tossing around in a few weeks for CES.
Huawei hasn't been very shy about their plans for early 2013. They'll be bringing 1080p HD smartphones with quad-core processors and awesome batter life to market to rival their competition. Mainly being Samsung and ZTE in their respective home country. Huawei's top end devices still haven't made it to the US as of late, but eventually that might change. We'll be sure and get hands-on video of both these smartphones at CES in early January so stay tuned.
[via Unwired View]