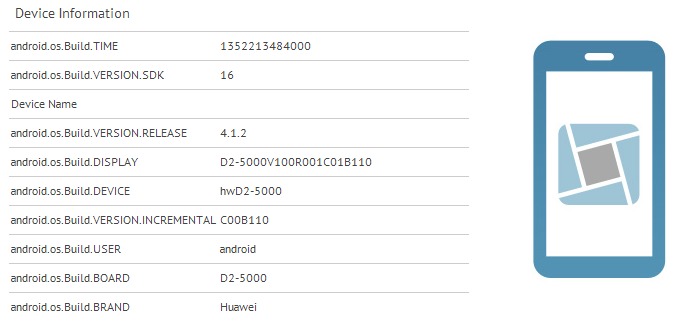 The somewhat popular Chinese brand Huawei has been making great progress as of late with their Android offerings. The folks from Huawei have been releasing impressive phones with their own in-house quad-core processors, large batteries, and trying to "get it right" according to them. While they still aren't there yet, a new smartphone leaked from a GLBenchmark shows some promise.
We recently had a chance to review (and enjoy) the Huawei Ascend D Quad XL. Which is Huawei's latest and greatest smartphone with a 4.5-inch HD display, quad-core processor, Android 4.0 Ice Cream Sandwich and an overall solid package. Today however it looks like Huawei is already in the testing stages for their next powerhouse smartphone, one we'll probably see at CES in early January.
Leaked as the Huawei D2-5000 this will indeed be the new Ascend D2 Quad when it hits the streets and it comes with pretty impressive specs. According to the GLBenchmark test the new device rocks a 1.5 GHz quad-core processor, 2GB of RAM, Android 4.1.2 Jelly Bean, and a full HD 1080p display. The odd thing here is the resolution listed was 1800 x 1080, instead of the usual 1920 x 1080 we've seen in recent leaks and like the DROID DNA.
Quad-core processors and 1080p displays are soon going to be the norm here for Android, and Huawei is looking to get a jump start and have their new flagship ready for CES and MWC next year. Samsung is still leading the pack and ZTE is the manufacturer of choice in China, but Huawei is hoping to change that with their latest devices. The rest of the specs aren't available just yet but you can see more from the GLBenchmark site. Hopefully this will help Huawei get on track to the top spot in China.
[via PocketDroid]