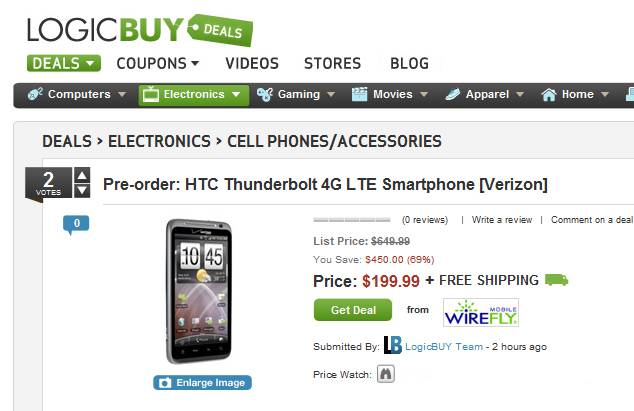 Wirefly is offering the HTC Thunderbolt on pre-order for $199 on a two year contract through Verizon. Verizon recently announced the price as $249 on contract, so users can save themselves a "Grant" by going through the online retailer. And knowing that fans are chomping at the bit to get this troubled 4G/LTE phone, Wirefly is even throwing in free shipping via FedEx so they can get it in a hurry. In addition, Wirefly tosses in their standard Mobile backup free for life service and a 30 day pre-order price guarantee in case the price slips even more.
Recently we reported that the Thunderbolt picture has become more clear as Verizon finally settled on an official date of March 17th. The Thunderbolt's delay has been rumored to be due to everything from poor battery performance to problems with the Verizon 4G/LTE rollout, but it seems that issues have been ironed out and now it's storm time. And as a little apology for one delay after another, Verizon is also offering free Mobile Hotspot access for two months through May 15 for no additional charge. After May 15, customers may choose to activate Mobile Hotspot for $20 for 2 GB of data per month or call Verizon and request it disabled.
The HTC Thunderbolt comes with a 4.3-inch WVGA display, dual cameras (an 8-megapixel rear camera, 1.3-megapixel front camera), and is powered by a 1GHz Snapdragon processor running Android 2.2 (Froyo). Storage options include 8GB of on board storage with a 32GB microSD preloaded. The Verizon 4G/LTE network should give users a powerful boost of 5-12Mbps downloads and 2-5Mbps uploads in 4G areas. Outside of that, users will get standard 3G speeds. But since Verizon is rolling the 4G/LTE network out in 200 cities this year, those slower speeds will be fewer and farther between.
[vms 543179858600245108dd]
[via LogicBuy]