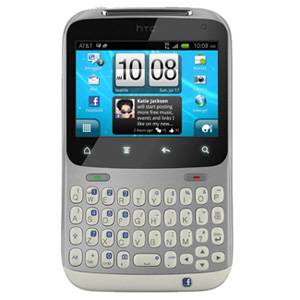 It's officially time for all of you Facebook fans to get excited. The long awaited and plenty talked about HTC Status aka the Facebook Phone is available starting today, July 11th on AT&T and will be in stores starting July 17th. HTC and AT&T announced the Status back at the end of June and now they have opened pre-orders. I bet you all can't wait.
In case you've somehow missed it just look at the photo above and you will understand. See that pretty little blue F button, yup that is a dedicated Facebook button for the "Status" and wall updaters in the world. Our sister site SlashGear recently reviewed the HTC ChaCha and they are basically twins so you can read that for a better idea on the hardware. Chris Davies does mention the hardware keyboard is excellent and one of the better ones he has used.
The HTC Status is up for pre-order right now for the low low price of $49.99 with a new 2-year contract over on AT&T. It is the first phone to feature the dedicated Facebook button so I'm sure a few are excited to give it a try. Here are a few features of the magical button.
The Facebook share button allows people to:

Post instantly on your wall or a friend's wall by pressing the Facebook share button from your home screen.
Take a picture or shoot a video and share it instantly with a press of the Facebook share button. You can also post multiple pictures at one time and label and tag them before posting. Or even post photos automatically as you're taking them.
Check in to Facebook Places by pressing and holding the Facebook share button from the home screen.
Share something cool on the Web with a quick press of the Facebook share button and be the first with the news.
Let your friends in on the music you love with the push of a button by pressing the Facebook share button to post the song title and other details.
Overall it is a nice mid-range offering with a 800 Mhz CPU, Android 2.3 as well as a 5MP camera for all your Facebook photo needs. Again the HTC Status will be $49.99 on AT&T with a new 2-year contract and pre-orders started today so head over to AT&T for all the information and full press release.
[via AT&T]