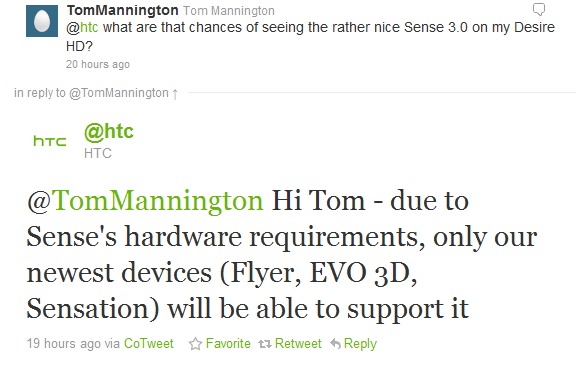 Earlier today there was a tweet by a HTC employee that has now made it's rounds throughout all the blogs. He mentioned that legacy devices, even ones like the Desire S and Desire HD will NOT be getting Sense 3.0 due to hardware requirements. You can see that tweet here. That would not be good news for many of you that have just jumped into one of those exciting new phones.
That was some pretty bad news for many, but now an official clarification tweet from @HTC themselves has put this entire story to rest. The official clarification goes on to mention that some aspects of the new Sense 3.0 like what is in the HTC Sensation will not work with older devices, but that they are working to incorporate all other aspects that can and will work with older devices.
This is some good news. Because the new HTC Sense 3.0 sure looks to have some cool features that I would not want to miss out on if I was a HTC buyer. From the never ending rotating 7 or however many screens you have, to the beautiful weather animations and more. If you'd like to see the HTC Sensation, and Sense 3.0 you can check out this video below.
[via @HTC Twitter]