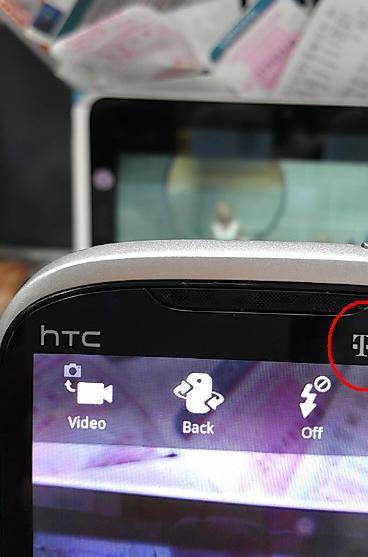 We recently saw an unknown device that obviously has the HTC design characteristics in the reflection of a HTC Flyer tablet. After a bit of digging around it appears that the phone is in fact a HTC handset called the HTC Ruby and it will be headed to T-Mobile with some Android on board. We didn't know what OS it would run but now all signs are pointing to Android after seeing the camera app on screen.
That my friends is the HTC Ruby running on Android and the T-Mobile logo we can ever so slightly see tells us some of the story. We don't know if this will be a T-Mobile US, or a UK phone. The camera app obviously looks like Android but it isn't what we are seeing on the latest version of HTC's Sense UI so a few others have reported it to be something other than Android but I know for a fact that is an HTC version of the camera app. We recently reviewed the myTouch 4G Slide and it has the exact same look.
Most likely the HTC Ruby will be a T-Mobile branded HTC device similar to the T-Mobile myTouch 4G Slide and the T-Mobile G2. It will have the T-Mobile Espresso UI overlay on top of HTC Sense just as the myTouch 4G Slide does. That also means it will probably run Android 2.3 Gingerbread at launch. We don't know any other hardware specs other than it has a front facing and rear camera with dual LED flash. This may be a mid-range phone but it also might be a dual-core packing beast like the HTC Sensation 4G. Most mid-range phones in the past only had a single LED flash but things could be changing. We wont know more until something official is released or we get more leaks so stay tuned.
[via Phandroid]