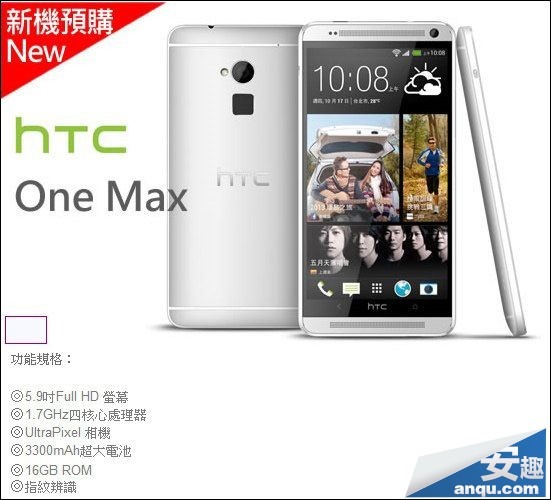 HTC is preparing to launch the HTC One Max, a 5.9-inch offering in their popular One family of products. Rumors have circulated regarding a fingerprint scanner on the rear of the device, though nothing official has been announced. Piecing a few bits of info together, it seems as though it just might happen, and be better than expected.

First, we found an HTC One Max press rendering. The source of the leak is the Chinese blog site Weibo, and comes to us via Dutch site GSMPedia. The picture, which you see above, looks to be for the Asian market. We have seen invitations for an HTC event on the 15th of this month, and dates set for various Asian markets. We've seen a leak of the One Max with Verizon branding, too, but no word on an official US launch.
The image keeps in line with rumored specs — 5.9-inch screen, 2GB RAM, and an UltraPixel camera — but leaves a bit to the imagination. The speed of the processor is noted (1.7GHZ), but not the make. We've heard the Snapdragon S4 Pro would be included, and that 1.7GHz certainly corresponds to it, but the lack of branding is odd. It also notes 16GB of memory, whereas we've heard an option of 16 or 32GB.
While the black box on the rear of the handset could be a lot of things, we've also learned that HTC may be planning to use it to launch various apps. By scanning various fingers, HTC plans to let users launch certain apps by scanning the corresponding digit.
It may also allow you to navigate the massive device a bit easier, since one-handed use with these larger devices is cumbersome. By swiping your finger along the scanner, it may operate like a touch pad, allowing you to navigate web pages, swipe through screens, or even snap a photo.
That's not to say that HTC won't also use the scanner for security purposes, it just means you may be allowed to delve beyond that functionality. By coupling security and a type of navigation feature, it seems we may be getting the best of both worlds.