Whether it would be called as the HTC One M10 or the HTC Perfume, we know the next HTC might help the Taiwanese company bring in sales. Take note we said 'might' because we're not really sure how the next flagship will fare against the competition. The Samsung Galaxy S7 and LG G5 are the top names to beat so HTC better make sure the yet-to-be-announced smartphone will be a class of its own.
From HTC One M7 to M8 to M9 and now this M10, HTC's flagship phones are always expected to become a winner each year. Unfortunately, not every model, even if considered premium, increased company sales. The last HTC One M9 wasn't much of an improvement from the One M8 so it didn't capture the attention of most mobile users. More variants were even introduced but to no avail.
As for the next One M10, there is still hope. HTC seems to be working harder this year and the focus could be on the phone's camera so we could be anticipating for an imaging-centric unit. Rumor has it that the the phone will have a wide f/1.9 aperture and a wide 26mm equivalent lens. No confirmation yet from Motorola or even Lenovo but the name M10 was spotted in a drop-down list of devices in an online survey form for HTC.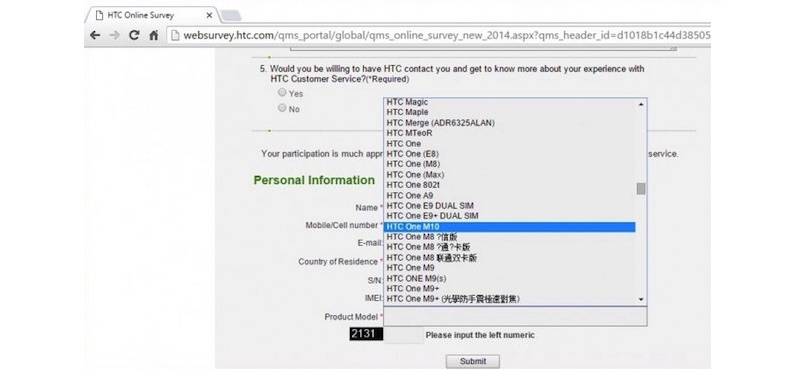 We're all curious about this HTC One M10. What could "The Power of 10" be? Let's wait and see this coming April when HTC officially makes an announcement.
VIA: GSMArena