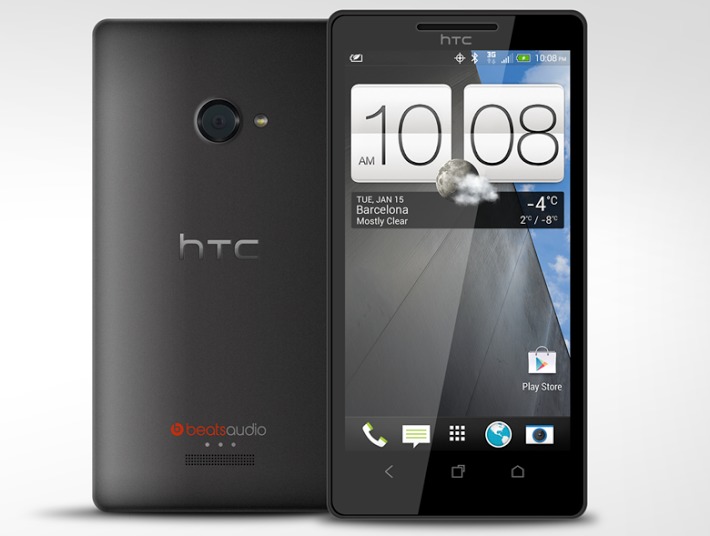 Earlier this week we received our first glance at what could be HTC's new flagship M7 smartphone. The leak was just a render showing a rather unconditional and terrible design. Today we have something even better. This brand new leaked HD image of the HTC M7 isn't official, but we have all the details and updated specs below.
The leaked render floating around this weekend looks pretty legit. We're hearing this is the real deal and is spot-on regarding what the front of HTC's M7 will look like, although the back is still not quite final. Multiple sources have confirmed the render isn't from HTC (like most leaks) and rather a fan-made render from people familiar with the matter and who've seen the device in person.
According to PocketNow the front is exactly what we'll be seeing with the HTC M7, but the rear is just rendered using design elements from the Windows Phone 8X and DROID DNA. According to reports the screen isn't edge-to-edge as expected, and HTC has decided to keep the capacitive touch buttons. What's even worse is they've switched the order here and the home button is now on the far right. I'm not a fan.
Either way we can expect the front to be near identical to what's shown here, with the rear probably looking closer to the DROID DNA. We can expect an array of colors just as HTC's done with the 8X and other recent Windows Phone 8 devices. Specs are still confirmed at 4.7-inch 1080p display, 1.7 GHz quad-core processor, 2GB of RAM, 13 megapixel camera, HTC Sense UI 5.0, and sadly just a 2,300 mAh battery. January 15th is showing on the clock widget, but that's only the date this render was designed. However we can expect the HTC M7 to be revealed later in February at Mobile World Congress in Barcelona. Stay tuned for more details. Who is excited to see what HTC's been working on? We are, but hoping it arrives for all carriers similar to Galaxy devices as of late.
[via AC Forums]