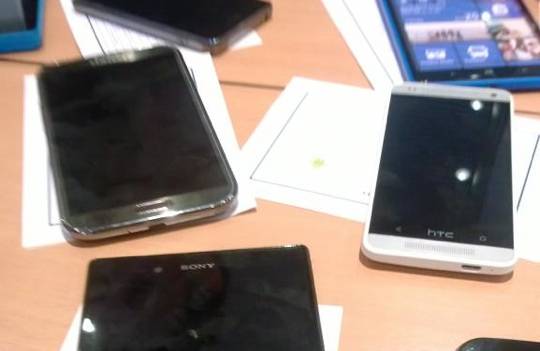 A seemingly innocent image recently appeared on Twitter. At first glance it would appear to be nothing more than a collection of smartphones, however with a bit of a closer look, there seems to be a few unannounced handsets sitting in plain site. The image is showing what appears to be an HTC M4 as well as a Sony handset currently sporting a codename of Togari.
The image, which we have chopped in two for the purpose of this post has come by way of Twitter user @dahnyelperro with little more detail than he is based out of France. Also worth mentioning, but maybe not as important to the Android fans, the original intent for this image seems to have been to show off the Nokia Lumia 1030. Shifting back the HTC M4 and we see a device that appears to match the earlier leaked renders.
For those comparing this to the HTC One, which does bring a similar look, the handset in this image appears to have the narrower speaker grills as well as the white frame running around the display. Aside from the look we are getting from this image, previous M4 leaks have suggested a handset that will arrive with a 4.3-inch 720p display, dual-core processor, 2GB of RAM, 16GB of internal storage, a 1700 mAh battery and running Jelly Bean.
Looking to the next image and we see what appears to be a first look at the Sony Togari. This one seems to have the stylings of an Xperia Z, but on a larger scale. According to the rumors, the Togari is sporting a 6.44-inch display which would have this sitting in the almost-a-tablet category. Aside from the size, the Togari display is expected to be 1080p.
That all being said, we do have to mention the obvious here. While the image appears to be the real deal, it almost seems a bit over the top to expect a picture with three unannounced smartphones. The other point to this image is where it has turned up — on a fresh Twitter account which at the moment has sent only 12 tweets and has just 19 followers. Then again, leaking an image like this on a new account may have been intentional.
VIA: Engadget, Blog of Mobile
SOURCE: Twitter @dahnyelperro