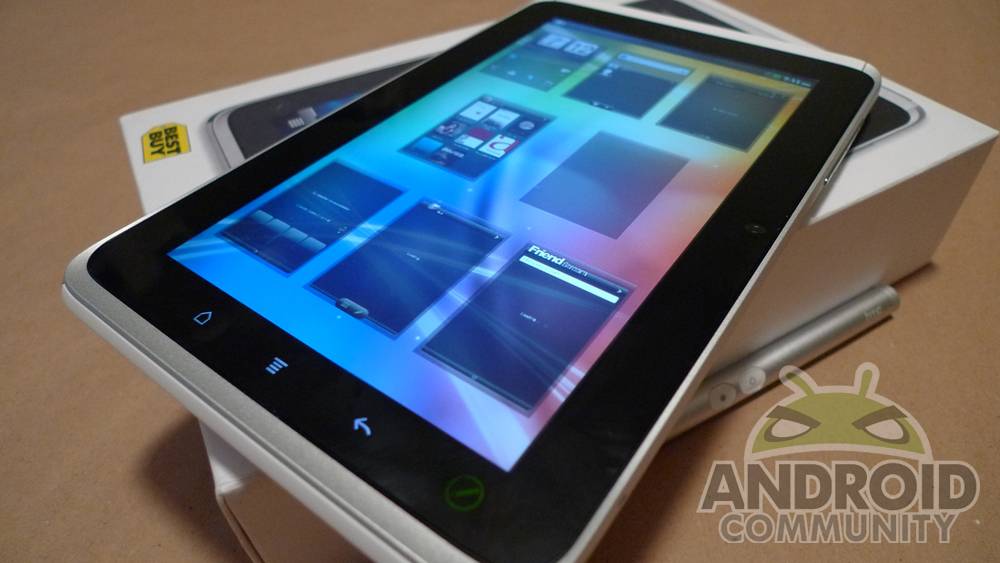 Hooray we finally got it! It's the coolest little tablet this side of the sea – only it's not just this side of the sea, it's all over the place. The first place we saw this device, the HTC Flyer, was back at Mobile World Congress 2011 where we got but a tiny glance at what it truly held for us. Then we got a better look at its Sprint counterpart at CTIA 2011. Now we've got a full-fledged hands-on look of the device and we're ready and rarin to go look at all of its insides. Pay special attention to the last question in the post as it's for YOU!
Check back here for the first time yours truly ever got anywhere close to the Flyer in person at MWC, then head to this post for the original announcement before anyone else had it, and of course go forth to the original announcement of the HTC EVO View 4G (Sprint's Flyer) and our very own hands-on at the Sprint event. Feel like you're covered for back info yet? Time to pen on!
This device is what I remember thinking at first was the ultimate awesome Android tablet because at that time there was no such thing as an Android device larger than a handset worth it's salt. Sure, there was a Galaxy Tab here or there, but that wasn't Honeycomb. That wasn't what this device ends up looking like: a giant EVO! It's white in Europe, black in the USA, and here we've got this one, just right, just the best. It's got a scribe pen too for yes, a totally amazing Android experience that includes circling, tapping, and instant screen-shotting like Android always should have.
[vms 81bb43b39c62553b2970]
Hands-On and Unboxing of the HTC Flyer
This device is a 7.7 x 4.8 x 0.52 inch Android tablet from HTC weighing in at 14.82oz and, depending on which country you buy it in, coming standard with the lovely scribe pen. On the back there's a 5-megapixel autofocus camera with no flash, on the front there's a 1.3-megapixel camera for video calls, and inside you'll find WiFi b/g/n, Bluetooth 3.0, GPS, an ambient light sensor, g-sensor and a digital compass.
We'll be putting this fabulous bucket of cute through some tests for you before the full review, making sure we're going all directions but bad. Photo examples, video examples, and run-through of all the innards.
Meanwhile, what do you want to know? What DONT you want to know? If you plan on purchasing this device, what might you want to see it do beforehand? Let us know!