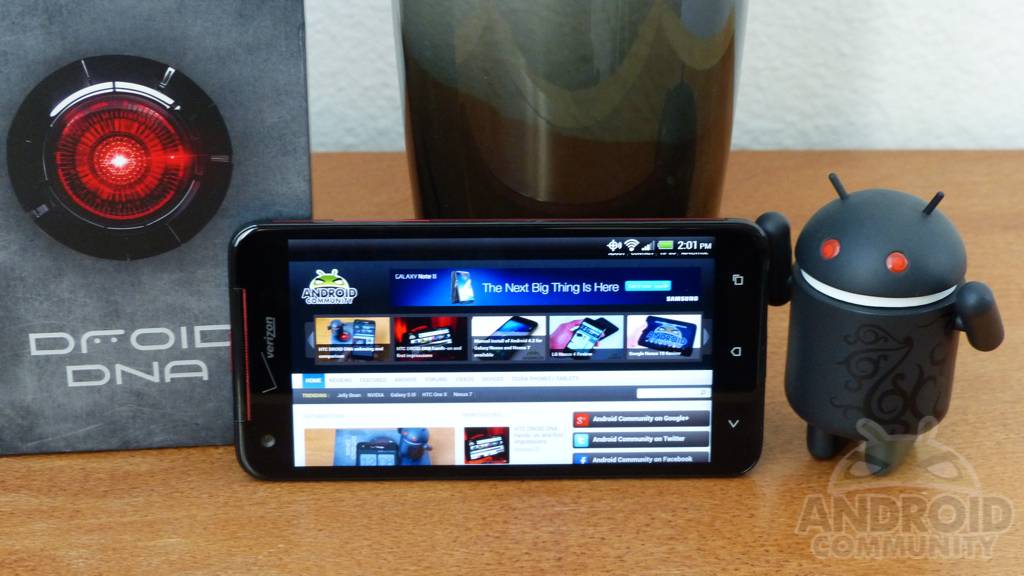 HTC is aiming big with their new DROID DNA, and it shows. This Verizon exclusive enters a new space for smartphones here in the US. That space being full 1080p HD right in the palm of your hand. That isn't all either, they've also added a top-tier quad-core processor and the latest version of Android all to this new flagship smartphone. Can the 5-inch 1080p HD HTC DROID DNA deliver? Read on to find out.
With other devices such as the LG Optimus G and Nexus 4 offering nearly the same specs, except for the large screen, does HTC and their DNA have enough of what it takes to compete with the best? Of course! It looks like large 5-inch screens and 1080p resolutions, quad-core processors and more will soon be the norm — and HTC is first to the market. This phone checks off almost every box under the "specs" column we all want, so lets dive in.
Hardware
As far as the hardware look at feel HTC hasn't wandered too far from what they're comfortable with. Sure there's some new changes, but for the most part this is nothing new. The DROID DNA is essentially the best or highest spec possible in all regards. You have a 5-inch 1080p HD display with a eye blistering 440 pixels per inch — the highest of any smartphone. Under the hood is a brand new quad-core 1.5 GHz processor, 2GB of RAM, and Android 4.1 Jelly Bean. Sadly we only get 16GB of storage (11GB usable) with no micro-SD slot, and a 2020 mAh battery. You should all know plenty about the specs for now so lets talk hardware. First you'll want to start with our hands-on and unboxing.
The first thing you'll notice about this phone (aside from the size) is the premium design followed by those slick red accents. There's splashes of Verizon's DROID red colors on the front, back and sides. HTC's used a lightweight plastic around front that feels durable, then opted for a polycarbonate soft-touch rear for added durability. The phone absolutely feels as premium as can be in the hand too. Large devices like the Galaxy S III and Note II are slick and I'm always afraid I'll drop it, the DNA we didn't have that problem with the soft-touch back design.
While the hands-on video should have shown you plenty, lets walk over the hardware. Obviously up front you have that massive 5-inch display, but we also have a 2.1 megapixel 88% wider angle front facing camera, the speaker grill and notification LED, and those 3 capacitive touch buttons for navigating Android. Both sides are neatly wrapped with a red accented "Lamborghini inspired" grill that should have been the speaker output, but are not. They are purely cosmetic, but look fine if you ask us. The right edge has a flush and hard to find volume up/down rocker embedded in that side grill too. With the 3.5mm headphone jack, power button, and 4G LTE SIM tray placed up top. More on that below. Nothing is on the left edge and we have the lone micro-USB port and microphone on bottom.
The hardware is absolutely stellar. Lets get that out of the way right now. Everything about the DNA screams of perfection and detail. There are a few setbacks though. For one a device this large having the power and wake button on top is completely a mistake. It's out of reach for almost any user. This should be housed on the right side in an easy to locate place, preferably where the volume rocker is placed. In our DNA video review below you'll see what we mean. Having to make multiple shifts with your hand placement to toggle unlock, then shift down to slide to unlock the device certainly isn't ideal. The power button is also very flush, hard to hit, and not very responsive and I was continuously having to make sure I hit it, or tapped hard enough. My last complaint would be that micro-USB cover on bottom. We all know those get loose and bend over time, not to mention is a burden to snap back in, especially while walking or driving. I absolutely despise that small "feature".
Those small few things aside the HTC DROID DNA is a premium product through and through. An amazing screen, brilliant camera, excellent Beats audio output, tons of processing power, and built to last. You'll love the hardware if you can get over the size.
Display
We have to take a minute to talk about the display. Being 1920 x 1080p HD resolution on a small 5-inch screen is impressive. HTC used their popular Super LCD 3 technology, which looks great and gets extremely bright. Colors are sharp, vivid, and viewing angles are truly some of the best we've seen. We were worried the focus on 1080p would hinder other aspects, but they don't. With 440 pixels-per-inch up close and even blown up text is silky smooth and looks outstanding. This is surely the standard for the next wave of smartphones and tablets. A few apps had issues with the new 1080p display, but we can't blame that on HTC now can we?
Software
HTC worked hard to deliver this phone with the latest version of Android, but just weeks before release Google's dropped Android 4.2 Jelly Bean. That aside, this has the previous Android 4.1.2 Jelly Bean and HTC Sense UI 4+ on board. You have the new Google Now, expandable notifications, improved menu settings, project butter and everything else from Jelly Bean. While we won't get to enjoy lockscreen widgets, or Google's new Photo Sphere camera features, everything else is here and works wonderfully. Hopefully the transition to Android 4.2 won't be too long, since they're already on Jelly Bean at the moment.
Being a Verizon device it's riddled with Verizon's bloatware, and now they even have their own tab in the app tray specifically for themselves as you see above. You'll also get the usual HTC Apps, Amazon suite, TuneIn Radio, a video editor, and even AMEX credit card services all pre-installed. This device had more bloatware than most, which is a shame. Sadly there's no special note taking apps or anything of that sort as Samsung's done with the Galaxy Note line. This is purely just a large smartphone in HTC's eyes.
I've never been a huge fan of the Sense UI, but with Sense 4+ things are slightly more comfortable. Performance is swift thanks to Jelly Bean and that quad-core processor, and following in Jelly Bean's steps they've kept some of the design elements (although changed the look) to keep it somewhat familiar. Any Android 4.0 and above user will be right at home, and certainly any previous HTC owners.
Benchmarks
Being a massive device rocking the highest resolution to date (on a smartphone) and also being powered by the latest Snapdragon S4 Pro 1.5 GHz quad-core processor we had to run some tests. Others like the LG Optimus G with the same processor scored high (7,300) but the DNA is in another league. We managed over 8000 in Quadrant, which was highly impressive. It's nearly 14,500 score in AnTuTu was also unexpected, blowing past the Optimus G and Nexus 4 by more than 3000 points. Clearly pushing more pixels is no problem for Qualcomm's new quad-core processor.
We also ran Qualcomm's own Vellamo, which unsurprisingly scored at the top of the charts, as well as the popular SunSpider and Smartbench for good measure. It's safe to say the DROID DNA is topping the charts in all aspects.
4G LTE Speedtest
While network and speedtest results will vary by location, time of day, and many other aspects you guys still like to see those results. Throughout my part of Las Vegas I averaged around 12-15 MB down, and 1-2 up with the new DNA on Verizon's growing 4G LTE network. Peaks down on the Las Vegas strip hit well over 25-30 but they aren't ideal, or expected. As usual with speedtest, your mileage may vary.
Camera


As usual with HTC as of late, the camera situation is quite nice. We have an 8 megapixel rear f/2.1 lens, 2.1 megapixel wide-angle front shooter, a dedicated flash, and their ImageSense chip for enhancing photos. The device is capable of 1080p video front and back, and they've added some features to Sense to make things easier too. The front shooter now has a timer so you can get ready to rock before those self portraits, and if you sleep the display in camera mode, tapping the power button takes you straight to the camera instead of unlock — allowing you to never miss that important shot.
As usual images are decent, especially on this 1080p display but can be a bit grainy on a larger screen like your home TV. The front shooters wide-angle lens is nice, being able to comfortably fit 3 people in a video chat for those who use that feature. Images were crisp, low light still can only be so decent but overall the camera seems about the same as the HTC One X. Below are a few 1080p video samples just for good measure. While decent you still have the occasional stutter and motion blur, but the DNA is on par with other competing top end smartphones.
Battery Life
Ever since HTC announced the DNA the battery life has been front and center. Having no option to remove or replace it, and only opting for a small 2020 mAh battery we had our concerns. With a 5-inch bright screen and a quad-core processor we were very worried. The Galaxy Note was 2,500, and the Note II is 3,100. So why did HTC go so small? The device is thin because of this choice, but they should have opted for a bigger battery.
In testing we found the HTC DROID DNA battery life to be average at best. It really is a hard thing to review, as we're all different. My first day with the device I was rather mild and only set up things most average users would. Gmail sync, Facebook, screen set to auto brightness and did my average to light usage. I managed 15 hours including 6-7 hours of sleep. The phone lasted from 3 PM through all night and into the next morning. Once I had my two emails setup and syncing, Twitter, Facebook, Google+ and Google Now all pulling data, out and about using 4G LTE (and that big screen) I didn't even make it 7 hours.
My usage is clearly more than most. Syncing and pulling around 100 emails a day, replying to more than I'd like, Twitter updating often, then tracking my Green Bay Packers and Fantasy Football stats all weekend. In the end we'd have to say the DROID DNA battery life should be enough for most, but still has some compromise. If you use your phone often for work and leave the charger at home at 9AM, you won't have a phone by the time 5PM rolls around. For average users you should get a full day without begging for a wall socket — but we can't help but wonder (and wish) HTC was smarter and went for a bigger battery. Other reviewers getting 24 hours with 50% battery remaining must not use their phone nearly as much as I. Don't expect better battery life than any Android phones released in the last 6-8 months.
Competition
The DROID DNA has a lot of competition. Does it hold up against them? Absolutely. The Optimus G has near identical specs but a smaller screen, the Note II has a bigger display but a lower 1280x720p resolution, but a much larger battery. In terms of the "phablet" or larger device market it surely is near the top spot. In regards to the Android mobile scene as a whole the DNA is right up near the very very top. This has it all, does it all, and looks great doing it. Verizon could easily charge $249 for this smartphone, but it can be yours November 21st for just $199.
Wrap-Up
In the past HTC's stayed to close to their comfort zone, and as a result their market status has been diminishing. With the new DROID DNA they've opened the books and put down a quality device. Obviously they've chased the cutting edge here with almost everything being the absolute best, but those come with their own challenges. The battery could be better, screen could be brighter, but overall this is an impressive smartphone.
The size is still something of concern, but should be more manageable and acceptable than the Note II. For those wanting a bigger device this holiday season but are worried about the size. It's just slightly big enough to be worrisome for me. We'd suggest you try it in store before making a final judgement on the size. In the end the DROID DNA is everything we use to love about HTC. They've pushed the envelope and delivered a stellar product they can be proud of. One that users will want to buy. It's big, it's pretty, and it's powerful. The Galaxy Note, Galaxy S III, iPhone 5, and LG Nexus 4 have some serious competition here from HTC. Get it starting tomorrow for just $199 from Verizon Wireless.
[device id=3811]