HP execs recently confirmed they were working on a smartphone. The expectation was that they were working on something with Android. But of course, that wasn't confirmed. Basically, all that was said was how HP is working on a smartphone and the details have remained a mystery until today.
It seems details of the HP Brave have arrived by way of an AnTuTu benchmark screenshot. The specific scores were not revealed, however there were some specs — including how the handset is currently running Android 4.2 Jelly Bean and sporting a 4.5-inch display.
The display is shown as having a resolution of 1600 x 900. Further details include a 2.0GHz Qualcomm Snapdragon 800 processor with Adreno 330 graphics, 2GB of RAM and a 14.5 megapixel rear-facing camera with an LED flash. That rear-facing camera is shown to be capable of capturing 1080p HD video and the handset also has a 5 megapixel front-facing camera.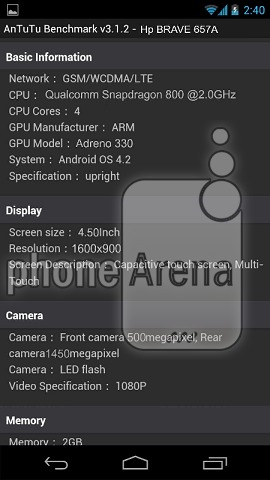 The key here, while these specs seem exciting enough — we do have to remember that these are early details. Not to mention, they are details that have yet to be publicly announced by HP. Simply put, things can and likely will change before any of this becomes official.
Another side to consider is the hardware. HP certainly has the capability to offer something solid, however aside from one leaked render, we have yet to see what the Brave will look like once released. With that, HP hasn't offered anything in terms of a timeline so it looks like the rumors and leaks will have to suffice for now.
[Update] HP has reached out with the following statement;
"The photo is a fabrication and is not a photo of anything HP has in the works. Someone is making stuff up."
VIA: phoneArena