If you remember from a few weeks back, we taught you how to set up a Chromecast device on your large screen TV. Google's 2nd generation Chromecast is one of the best ways to bring the internet to your "dumb" TV, especially if you bought one of the large ones before the smart TV trend started. Now that you have your Chromecast installed and set up correctly, it's time to bring in some apps so that you can start enjoying the best of what the Chromecast streaming world has to offer.
What you need:
– A Chromecast device installed and set up correctly on your TV
– A good home WiFi network with enough bandwidth (a 5Mbps connection should suffice)
– An Android device so you can install apps and stream your content
YouTube
You can't go wrong with starting your Chromecast-enabled life with YouTube. Google's video streaming website is a cornucopia of streaming video content – virtually anything you could want to watch in one form or another is there. Your Android device probably has the YouTube app pre-installed, and when the app detects that a Chromecast device is connected to the same network, it will show you the cast button on the top right of the video. You can directly cast whatever video you are watching on your Android device to your big screen TV.
DOWNLOAD: Google Play Store
Netflix
If you have a Chromecast, then Netflix should be installed on your Android device. That's all there is to it. You most likely already know what Netflix is, what it offers, and how much it costs to subscribe. It is one of the best movie and TV series streaming apps around, and it is continuously updated with new content and features. If your connection is anywhere around 5Mbps or better, then streaming your favorite movie is almost an afterthought – it's that flawless. The selection of content available is such that being confused of what to watch first is actually a thing now. It's worth a shot, even for just the one month free trial for signing up.
DOWNLOAD: Google Play Store
Hulu
Apart from Netflix, Hulu is the other one you should have for Chromecast. It has current and modern TV shows, along with a few movies. If you like anime, then Hulu is a great app for you. Hulu also recently launched a TV service for USD$39.99 per month which includes over 50 channels. If you feel that Netflix is not enough for you, then Hulu is definitely a great auxiliary for streaming TV content to your Chromecast.
DOWNLOAD: Google Play Store
VLC
The VLC Media Player is one of the most popular media players on the PC platform for the main reason that it can basically play any media file you throw at it. The VLC for Android app had a lot of catching up to do, and it's slowly getting there. But one of the biggest holes in the app's arsenal was that it lacked Chromecast support. So you can play any type of media on your Android device, but you couldn't cast it to your big screen TV. Not anymore. That lack was answered in the latest update of VLC, and you can now cast whatever local media file you are playing on VLC to Chromecast.
DOWNLOAD: Google Play Store
LocalCast
Speaking of casting local media files, another option for you is LocalCast. By the app's name itself, you should know that it supports music, TV shows, movies, and images stored on your device. It can even cast PDF files to your screen, which is helpful if you want to show a PDF file to your friends. The app is ad-supported when free, but you can donate a small amount to get rid of the ads and get the pro version.
DOWNLOAD: Google Play Store
Movies Anywhere
One of big problems of people who have an Amazon content subscription – like movies – is that there is no easy way to cast it on to your big screen TV if you don't have a smart TV where you can install apps. Movies Anywhere is the answer, as it integrates with your accounts on Google Play Movies, Amazon, iTunes, Vudu, and Disney Anywhere. When you purchase or rent a movie on any of these services, it shows up on the app, which thankfully is supported by Chromecast. You might find that it has some bugs – it is one of the newer Chromecast apps – but it is totally the solution you're looking for if you subscribe to the services mentioned.
DOWNLOAD: Google Play Store
Spotify
It took a while for Spotify to jump on the Chromecast bandwagon. But when it did, you now see why it's a no brainer for the app to get Chromecast integration. The audio streaming service has over 30 million tracks along and various radio stations, video content, podcasts, and more. When you think of music streaming, Spotify is where it's at – bar none. There's a USD$9.99 per month plan that is the starter plan. If you want your whole family (up to six people) to get Spotified, then there's a USD$14.99 per month plan for that as well.
DOWNLOAD: Google Play Store
Google Play Music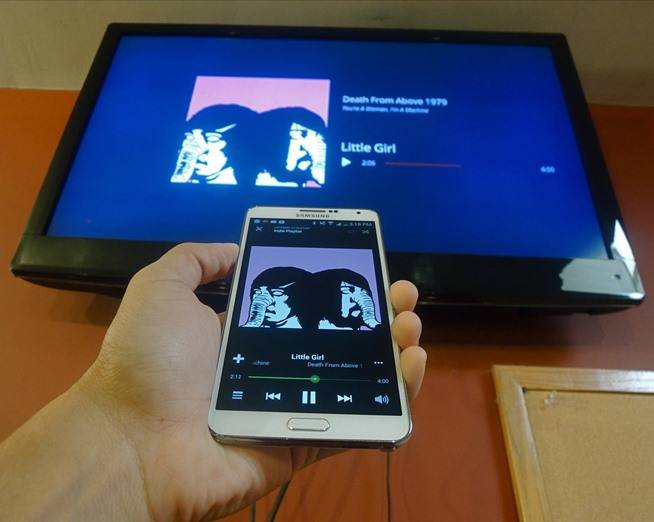 Google Play Music is the default Android music player, and it is supported by Chromecast. The one-two punch of google Play Music is this – it can play songs from your local media library (which Spotify can't do) and it also has a massive catalog of music you can stream on demand. While Google Play Music is free to download on Android, you will need to pay USD$10.00 per month for the Google Play Music All Access subscription, allowing you to stream music on demand.
DOWNLOAD: Google Play Store
Plex
Plex is consistently one of the best Chromecast apps – and most of the internet will confirm that. Plex – simply put – is an app that lets you stream video from your phone or computer to your TV via the Chromecast. We recently did a how-to on setting up Plex and your Android device, because it does take a bit of time to set up. Once you have it ready to go, everything will be great, and you'll be thanking the Android gods for Plex. You will need to pay a small, one-time fee to use the Android app, but it is worth it. Plex is easily one of the best ways to get video from your computer to your TV without a bunch of cables.
DOWNLOAD: Google Play Store
Google Chrome
Chromecast isn't named like it is for nothing – Google made sure that you can cast whatever you are browsing on your Chrome browser to any working Chromecast device. This works well for presentations, and even just showing your friends that funny article you saw on whatever website that was. Any updated Chrome browser app will have a "cast" function enabled, so you can easily show your browser on your big screen TV.
DOWNLOAD: Google Play Store