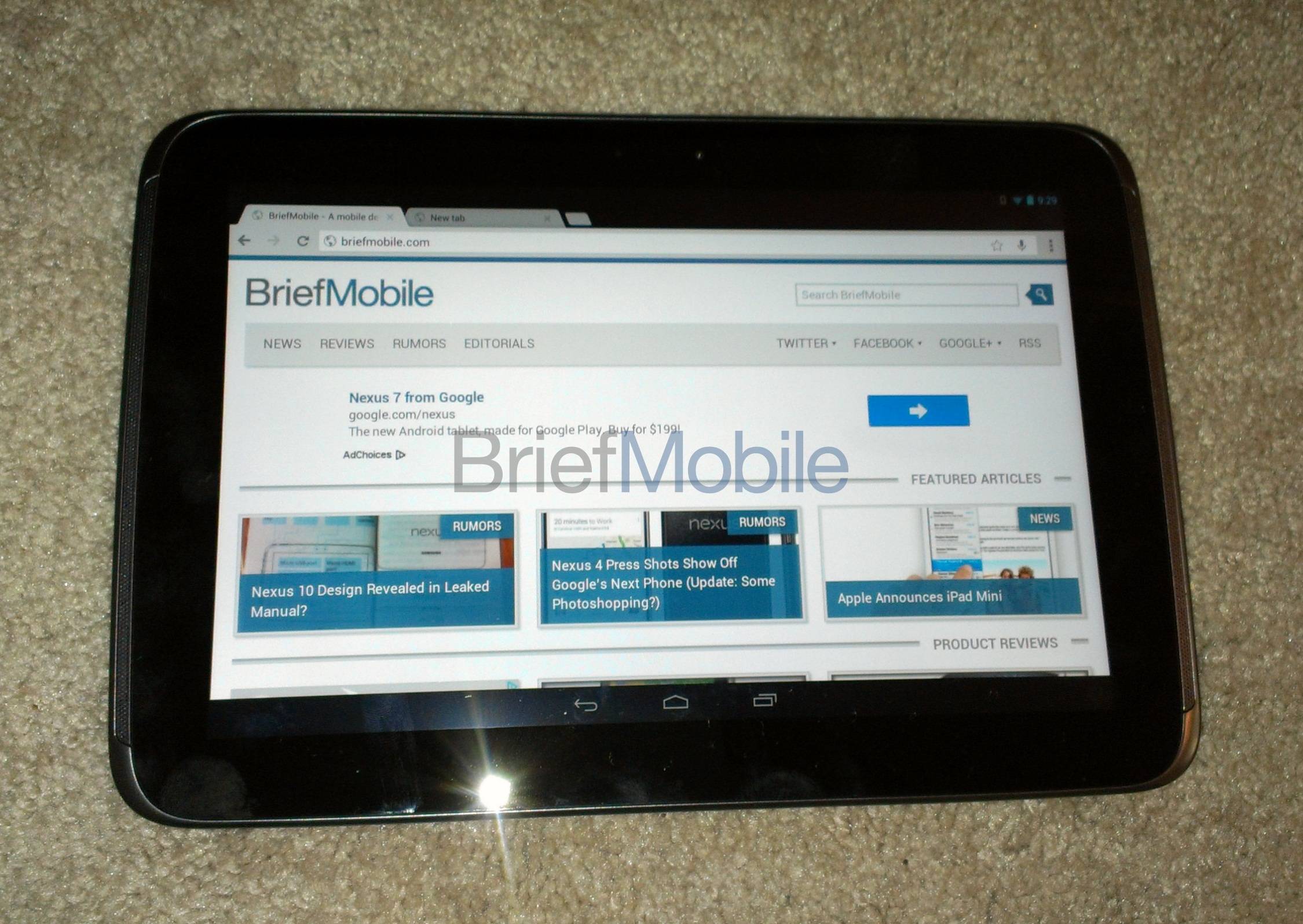 Whoa, get excited guys. Say hello to the Nexus 10! We are getting our first look at Google and Samsung's brand new Nexus 10 tablet in all its glory thanks to an entire gallery of photos leaked by BriefMobile. While many of the specs were already known, this confirms some of the previous rumors and puts everything to rest just days before Google's official event. Read on for the full rundown and a few more pictures.
According to the pictures, details provided, and the screenshot the Samsung Nexus 10 will be an amazing tablet — that's for sure. With a 10.1-inch 2560 x 1600 true HD display, Android 4.2 Jelly Bean, yes Jelly Bean, and here's the kicker. The Nexus 10 will be powered by Samsung's brand new Exynos 5250 1.7 GHz dual-core processor. No it isn't a quad-core, but it should be blazing fast based on the Cortex-A15.
Along with that beautiful and truly "retina" quality HD display comes 2GB of RAM 16GB of internal storage (micro-SD is doubtful) and a 5 megapixel camera — which we saw samples from this morning — then the usual NFC, WiFi, Bluetooth 4.0, and everything else that will make this tablet amazing.
For those keeping track at home, the Samsung Exynos 5250 1.7 GHz dual-core is the same one being used in Google's brand new Chromebook, and should be plenty fast even with just two cores. This is just breaking and surely we'll be getting tons of additional details soon so enjoy the few photos below, then hit the source link for the full rundown. They've got tons of screenshots showing Android 4.2 Jelly Bean, the all new Gallery app, improved pulldown bar with "Quick Settings", multiple user accounts (which may or may not be on Android 4.2) and more.
It's safe to say this is the most impressive sounding tablet with the highest specs we've seen yet. I'm not a fan of the rear design personally, but love the massive dual front facing speakers. What do you guys think? Give me this for $349 and I'll be happy!
[via BriefMobile]