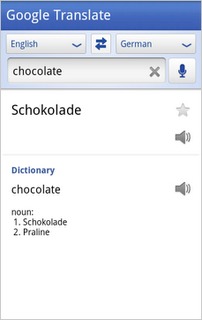 The first version for Google Translate for Android was waaay back in January 2010. Google lets us know in a report today that since then, they've added several updates to make the app totally easy (easier) to work with. They've added dropdown boxes to help select languages, improved the input box (somehow or another) and cleaned up the icons and the whole layout. PLUS there's an experimental feature added on.
This experimental feature is no less than "Conversation Mode," an interface that works to help you communicate with a person speaking a language you dont understand in real time. Heck, you BOTH wouldn't have to be able to understand one another for this to work if it works. This feature was demoed a few months ago in a very early form, but it's ready to try out now in your very own download.
Read more about Conversation Mode [here] Check the full app out now in your Android Marketplace by searching "Google Translate" or by scanning the QR code in the gallery below. It's free!
[Via Google Mobile Blog]