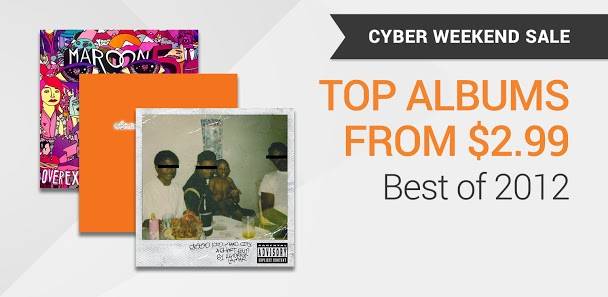 Who is still full from last night? As you all know, Black Friday and Cyber Monday deals are going strong at the moment, and now we get to enjoy it too. As usual Google is getting in on the action and have officially announced their Cyber Weekend Sale on the Play Store. Google and multiple developers are offering content at up to 80% off this year.
I don't know about you guys but after seeing a few videos of Walmart Black Friday smartphone sales where people were fighting, I think I'll stick to Cyber Monday this year. Google isn't just going for a day, they have deals planned for the entire weekend — although you might have to search to find them all. Obviously multiple developers are having their own sales — like SwiftKey 3 — but you'll be able to find much more right from the Play Store.
Google's announced that movies, TV, music, books, apps, and basically everything they offer will be getting sales here and there all weekend long. They've already started their "Players Appreciation" best of 2012 Cyber deals as shown above, where tons of popular games are all on the cheap. Google Movies also have some stellar deals going on. You can get entire TV series for just $9.99, and tons of popular and classic movies like Jaws, The Social Network, The Big Lebowski (yes please) all on sale, or own them for $4.99.
Music has a long list of deals too where Google's offering the top albums of 2012 for just $2.99. Get the entire Gotye CD, fun, and even Justin Bieeeeber all for cheap. For now we're seeing a few apps here and there on sale but over the weekend many developers will surely be dropping their prices to take part in the holiday cheer. Stay tuned as we'll report anything worth noting. Have a happy holidays and enjoy the deals!