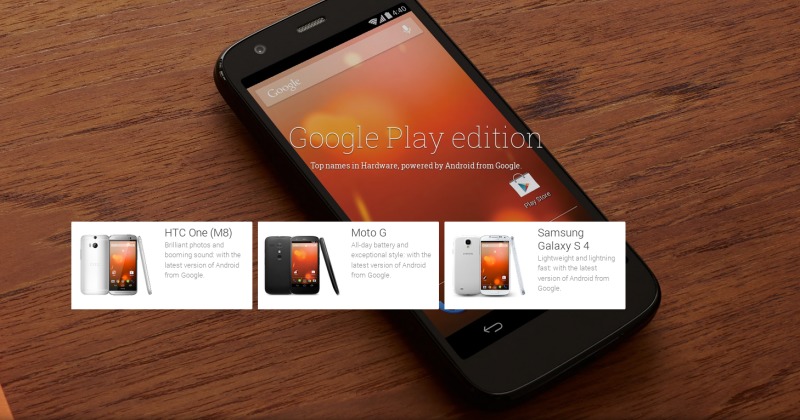 Perhaps these are signs and portents of something new on its way, or perhaps something worse. Google has reduced its list of Google Play Edition devices from six down to three, leaving only the most recent device available for purchase, in the United States only of course.
The existence of Google Play Edition devices is a rather strange one, though not unwelcome. Google already has a Nexus line of smartphones and tablets that represent the Android maker's ideal vision for Android devices, as well as the Android software itself. While these are usually top of the line devices of their generation, they also lack features that Google does not care about, like microSD card slots, hardware buttons or other extra hardware features. For those who prefer some manufacturer's hardware design but would still like to avail of Google's "Nexus promise", the GPE, as they are called, offers them an alternative.
The GPE lineup is usually made up of top OEM's crème de la crème, though naturally some of those have aged by now. Perhaps to keep the selection from growing stale, Google has removed some of the rather older ones from the list. This includes the 2013 HTC One (M7), the Sony Xperia Z Ultra, and the LG G Pad 8.3. This leaves the Motorola Moto G, the Samsung Galaxy S 4, and the HTC One M8 as the only GPE choices available. Curiously, the Galaxy S4 isn't exactly the latest of the bunch, and there is no word if there will be a Galaxy S5 GPE soon, only that a developer edition will be available from Verizon.
The biggest question perhaps is why Google chose to cull the roster now and rather silently at that. Although not necessarily related, it might once again bring up theories about Google's yet to be seen Android Silver program. Google assured Nexus fans that even should Silver take flight, the Nexus program will remain intact. However, it never mentioned anything about GPE devices, and the lack of new entries after the HTC One M8 doesn't inspire much confidence.
SOURCE: Google
VIA: Android Central