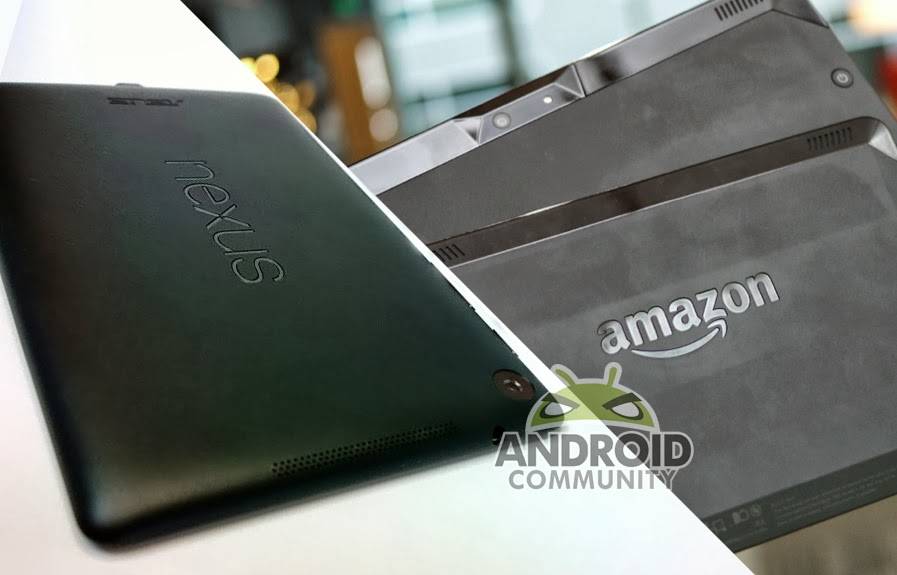 This week Amazon announced their new Kindle Fire HDX tablets, delivering all their content and "customers also bought" suggestions right to you in a brand new and sleek device. The X in the name is for the display, which got a huge boost, but that isn't all they've done with their slate. We'll be pitting it against Google's Nexus 7 below, just in case you're weighing a purchase decision.
Now before we get started you'll want to take a peek at our Nexus 7 (2013) review, followed by our hands-on with the new Kindle Fire HDX tablets. They each have their pros and cons, and we'll be running down a few of those today.
Amazon has delivered a finely tuned and slimmed down tablet, all in a redesigned and improved shell with higher specs. At the same time they've managed to keep the price low and will directly compete with the Nexus 7, but we already knew that was coming. Both 7-inch tablets start at $229 for the 16GB WiFi model, so it's quite a decision.
Really though, it isn't a hard choice. While both tablets clearly have their high and low points, it all comes down to what you want and need from a tablet. Since the HDX isn't commercially available yet (coming mid October) we can't do a full comparison, but will at least layout the specs, what you'll get, and if it's right for you.
Display
Both the Kindle Fire HDX 7-inch and Nexus 7 have beautiful 1920 x 1200 full HD displays, and they are stunning. The Nexus 7 has some of the best colors and contrast we've seen to date. However, Amazon claims their display will automatically adjust the pixel temperature and brightness both, based on the environment, to give you the best viewing experience or to preserve battery. Our limited time with it we came away pleased, but in the end think the Nexus 7 might edge it out. Which could be the IPS panel vs LCD.
Power and Processor
This section is a bit of a toss up, as we don't know all of the details. We know the Nexus 7 rocks an improved Snapdragon S4 Pro quad-core, but it has the Snapdragon 600 GPU inside, making it essentially a blend of the two. It features Krait 300 cores, which means it's more a Snapdragon 600 than an S4 Pro. For average users though, that doesn't matter. It's a powerful tablet with a quad-core processor and 2GB of RAM, so it won't have any problems with content.
The Kindle Fire HDX sports Qualcomm's latest Snapdragon 800 quad-core at 2.2 GHz. This is similar to the 800 in the G2 or Galaxy Note 3, but is actually a slightly slower, paired down model. So while it's still more powerful, it isn't by much, and these two devices are a bit closer in terms of performance than we all actually think. They both feature 2GB of RAM, 16/32 storage options, and both will be able to handle the highest tasks and games for years to come.
Software
Probably the most important aspect for many, is the software. With the Nexus 7 you'll obviously get the latest and greatest Android 4.3 Jelly Bean, and will receive updates faster than any device on the planet. The Kindle HDX though, runs on a skinned and heavily customized (nearly unrecognizable) version of Android 4.2 Jelly Bean, covered with what's called the Fire OS 3.0. Amazon has it tailored around what they want, and their walled content garden, which is a good and bad thing.
For those who love Amazon instant video, Amazon cloud music player, and everything else they offer, not to mention books, this is a perfect device. While Amazon did a lot this time around for enterprise with Wireless printing and such, the open and completely vanilla state of the Nexus 7 should give it a clear advantage. Again though, this all depends on what you want in a tablet.
For many Android fans the choice is extremely clear, without a second guess, but for a family that wants a content consumption and reading device, the Kindle Fire HDX might be the better choice. In general though, you'll have more options and opportunity with the Nexus.
Size
If you're like me and watch Breaking Bad or the terrible Series finale of Dexter in bed, the size and weight is important. The Nexus 7 is 299 grams vs 311 on the Fire HDX 7-inch, but that's so close it won't matter much. They're both extremely comfortable in the hand too, so this is a toss up. The Nexus 7 is slightly taller, but due to still having rather thick bezels the Kindle Fire HDX is still wider, and a little thicker.
Camera
The Nexus 7 has a 5 megapixel rear camera, and a 1080p capable front shooter for Google Hangouts and video calls. Amazon on the other hand, only put an 8 megapixel in the far bigger and more expensive 8.9-inch HDX. So the 7-inch flavor we're comparing here only has what they're calling a "720p front camera". So the Nexus 7 wins in this department as well.
Connectivity
Aside from a WiFi model in various storage options, both tablets also come with 4G LTE support. Amazon stated AT&T and Verizon only, but likely that AT&T model should also work with T-Mobile, even if they didn't advertise it. Google's Nexus 7 works on all 3, for the most part, and even US Cellular. Pricing appears to be about the same here, although Google's only offering LTE with the $349 32GB model. Amazon will have it in all three 16/32 and 64GB units. So that's a plus.
Wrap-Up
There's no real winner here, at least to the general public. In our eyes though, the Nexus 7 would be the clear purchase simply because it's a Nexus and has access to the Google Play Store. Not to mention the awesome and untouched version of Android you'll always have. Compared to the walled garden of suggestions and ads the Kindle Fire HDX will throw in your face. That, and being limited to their Amazon App Store.
We do need to reserve a final judgement til the Kindle Fire HDX gets released on what we're hearing is October 18th, but for now we don't see most Android fans choosing it over the Nexus 7. There's plenty of hope for Amazon though, as their store and Kindle family has a loyal following that can't wait to get the latest Kindle Fire HDX.
What do you guys think?