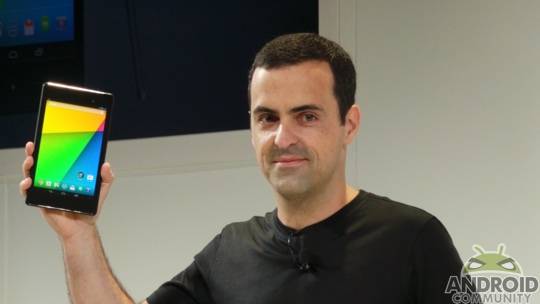 For all those who weren't able to watch the live-stream yesterday where Google announced and unveiled the new Nexus 7 tablet running on Android 4.3 Jelly Bean, or the awesome new Chromecast, we have you covered. First you'll want to check out all of our hands-on pictures and videos linked to below, and then watch the full event as Google's just released the entire press event video.
Google took the stage and announced three major things. The first being Android 4.3 Jelly Bean available for all Nexus devices, and coming soon to GPe smartphones and others very soon. They quickly followed that up by showing the brand new 1920 x 1200 full HD new Nexus 7 tablet, the first device with Android 4.3 on board.
Then as a shocker to many, they announced a brand new product called the Chromecast. In case you've been asleep the past 48 hours, it's getting a lot of attention. A $35 dongle that lets you stream YouTube, Netflix, Google Play Music, Movies & TV, and even pandora radio all to the bigscreen in your living room. It's pretty awesome and I bought two. Google just released the entire launch video, so if you missed it, here you go.
There was tons of exciting stuff from the event. From a new Nexus, Android 4.3, the Chromecast, and Google even revealed when the impressive looking Asphalt 8: Airbone racing game will arrive on Android. It was a packed event full of goodness.
Were you expecting more from Android 4.3 Jelly Bean, or are you happy with the release? Who bought a Chromecast? Let us know in the comments below.