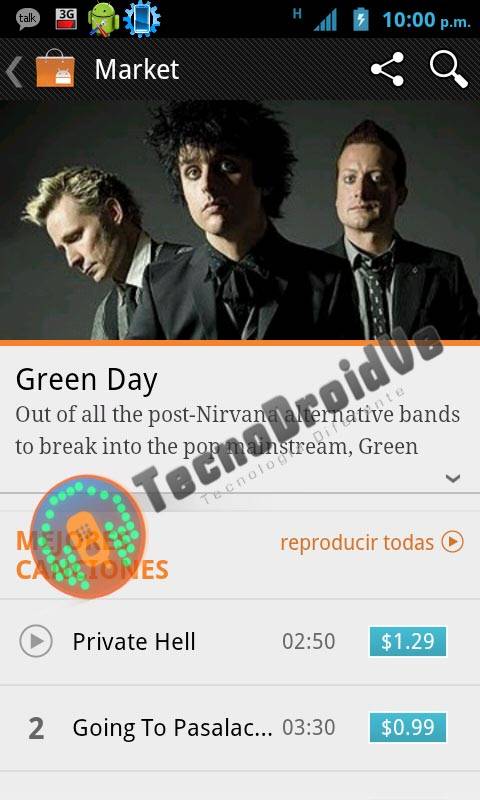 Users in the world of Android have been waiting for a full on music solution for what seems like ages, but come this Wednesday that might be exactly what we all finally get. We've just received some leaked screenshots showing a Google Music store in the Android Market, just like Movies and Books. The screenshots appear to be an early build or at least similar to what we can expect Google to announce at the "These Go to Eleven" press event this Wednesday.
Looking at the provided screenshots the store might not be fully functional yet but most likely it will be soon, or even launch on Wednesday to go along with the Google event. A few things worth nothing is the Free Song of the Day screenshots. It appears they'll be taking a similar approach as Amazon has done with Apps for Music in hopes to boost action. This could also be an amazing way for new artists to be seen by the millions and millions of Android phone users. We are also seeing a recommended artist list as well as similar artists. So far I really like what we've just seen.
Earlier we heard a few reports that Google was struggling to get all record labels on board, just as iTunes did during the early stages and that it will launch without all four major record labels. Sony and Warner being two big ones missing. Glancing over the screenshots Google might have actually secured deals with all four. Giving the Google Music store an even better position to succeed. Looking at the screenshots we see plenty of Shakira who is signed to Sony (among others), and even Green Day who is signed with Reprise, a subsidiary of Warner Music. Maybe these deals are still being worked out, and the possibility of those song not being available from Sony or Warner is still possible until a deal is made. We won't know until Google Music is officially launched. Stay tuned on Wednesday for full details.
[via Androinica]