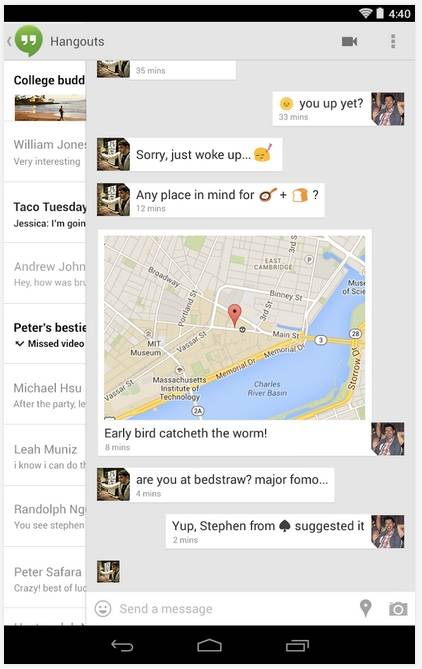 Google unveiled Hangouts v2.0 during the "Morning with Google+" event that took place last month. Vic Gundotra detailed what could be expected with the updated Hangouts release at the time, but in the end, that event served more as a teaser. Simply put, Hangouts 2.0 was announced and detailed, but not immediately released.
Those who picked up a Nexus 5 have spend some time with Hangouts 2.0, and as of today, the update has arrived in the Play Store. And interestingly, this one appears to be a newer build as compared to what arrived on the Nexus 5. Those users saw build number 2.0.012 and this Play Store arrival is 2.0.122.
Specifics on the version number aside though, the features arrived as expected. That is to say Hangouts v2.0 brings support for SMS and MMS integration (for Android 4.0 or later). This means you can send and receive text messages directly from Hangouts. Sadly, there still isn't support for Google Voice numbers though. Otherwise, this SMS integration will also allow you to import any existing text messages you have on your device.
Remaining changes that can be expected touched on animated GIFs, your location and your current status. The animated GIF support is just that, you can now send an animated GIF using Hangouts. The location is sharing and simply means you will be able to send your current location by tapping the icon on the right side of the "send a message" box.
Lastly, the current status bit means you can share details on the device you are using, whether you are on a call and your current mood. This can be adjusted by heading to Settings -> your email -> Share your status. Once here you can check or uncheck the specifics as you desire.
SOURCE: Google Play Store