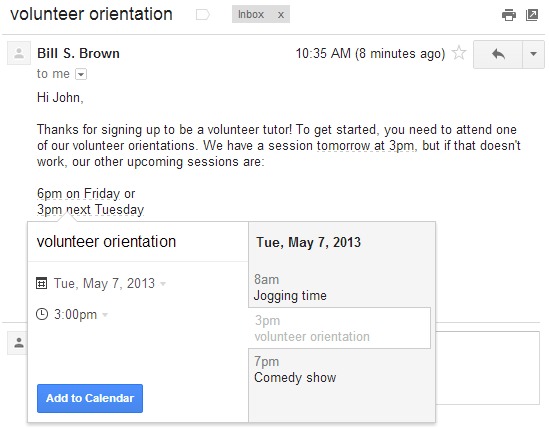 Today we're learning some additional details about a rather neat new feature Google has introduced and integrated into Gmail. Sadly the new feature isn't on mobile, yet, but Gmail will now allow users to automatically add events and reminders to their calendar right from emails. Basically one click easy Google Calendar entries.
Starting today, Gmail now detects dates and times in emails and will underline and highlight said dates. Then users can simply click the highlighted text and get a nifty little pop-up asking them if the information is correct, then will seamlessly integrate the dates and schedule a reminder in your Google Calendar.
Google announced the details recently on their Gmail blog, but sadly this feature appears to only be for their desktop client. Although we have a feeling this little shortcut will be headed to Android soon. So while this isn't totally Android related, we all use Google and Gmail daily on our devices, and I'm sure many of you will love the new feature on desktop, and when it comes to mobile.
To be even more convenient, when you get the reminder or alert of the saved calendar entry, it will even have a link directing you back to the original email, should you chose to look. Google states this is rolling out over the next week to those who uses English in Gmail, and more languages will coming soon. Expect this to arrive in Gmail for Android soon too. Hopefully.