For all the soccer fans out there we have some good news today from the folks at Gameloft. While their Real Soccer mobile games have been extremely popular they've been a little slow on the releases for Android. Real Soccer 2012 has been available for some time on other platforms but today Gameloft has announced on Twitter it's finally available for Android.
Just in time for the new season you can follow your favorite teams and even replay the match you just watched on TV right from your Android device. Inside Real Soccer 2012 is a news and game feed and with the touch of a button it will set up the games being played in real-time right on TV for you. It's that simple. They've integrated custom kits and jerseys so you no longer have to choose what you want. Players can be completely customized to their own liking.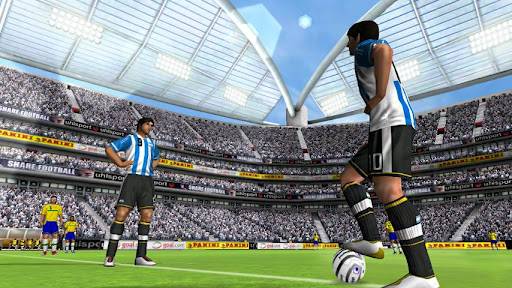 With Real Soccer 2012 we have better graphics, smoother gameplay, and better camera angles. They've been officially licensed and offer thousands of real players' names, 350 teams and 14 league championships to play including England, Spain, France, Germany and South America. With online support the game stays up to date with injuring, roster changes, and player transfers to be as realistic as possible for the thousands of fans.
Real Soccer 2012 is completely free and available for Android starting today. Get it now from the market link below and give it a try. Let us know what you think of the new graphics. Don't forget to follow along with your friends with the new Gameloft Live! app.