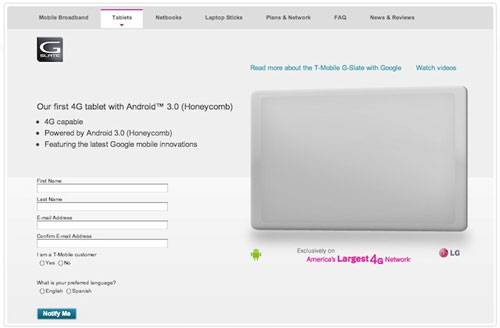 We have seen and heard just about all of the details of the T-Mobile G-Slate tablet that is set to hit T-Mo in Europe and the US. We know that the thing is seeking its FCC approvals for the US already and will support 4G networks. Considering that most of us in the US and UK live in non-4G areas that capability might night be appealing to some that are interested in the tablet.
Reports are surfacing now that LG might be looking to offer a version of the G-Slate in the UK that lacks 4G capability. Losing the 4G modem inside and going strictly 3G would presumably mean the 3G version of the tablet would cost less as well.
Why the non-4G version might not be offered in the US as well is a mystery. The revelation came by way of LG's James Choi in talks with Pocket-lint where he hinted that the non 4-G version might head to the UK.