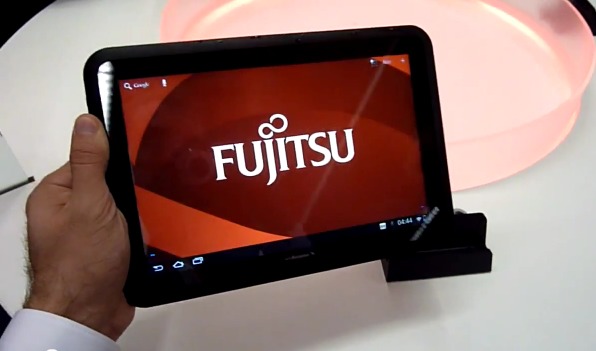 You probably haven't seen much from Fujitsu in the Android markets but we've recently spotted a new Android 3.2 Honeycomb tablet codenamed the F-01D Waterproof tablet. They've officially named this the Fujitsu Arrows LTE Tab and you can read more on it here. It's not just water-resistant, it appears to be able to fully submerge under water and keep working just fine. Check out the video after the break.
Obviously from the name you'll know that this tablet will be rocking 4G LTE. The specs include a 10.1″ 1280 x 800 HD display, Android 3.2 Honeycomb, a 1.0 GHz TI OMAP 4430 dual-core processor is on board, as original leaks suggested. We have 1GB of RAM and 16GB of internal storage with 32GB being optional. We also have a micro-USB and micro-HDMI ports that are fully accessible and have waterproof covers to keep things water-tight. The video below explains it all:

Fujitsu Arrows LTE Tab: Water Test

When we initially heard about this tablet it was being touted as water-resistant, but clearly after watching that video this thing gets completely submerged in water and is dripping and soaking wet while loading a webpage — how awesome is that? While not everyone needs a rugged and durable tablet I'm sure there is a market for those wanting a fully waterproof tablet, not just a smartphone that can handle all conditions.
We still don't know a lot regarding the new Fujitsu Arrows LTE Tablet but should hopefully know more soon. According to the viewer in the video it is currently available in Japan only. The changes we see a US launch is unknown but I'm sure a few of you wouldn't mind getting your hands on this fully waterproof Android 3.2 Honeycomb tablet.
[via NotebookItalia]