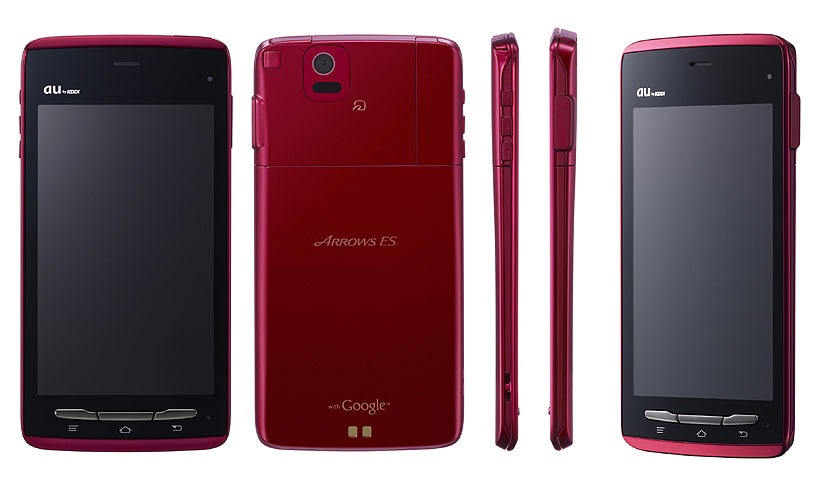 Manufacturing the smallest, lightest, and thinnest in this day and age means that there's always someone waiting to take your title away. In the case of Motorola's drool-worthy DROID RAZR, the challenger is Fujitsu's ARROWS ES IS12F smartphone, performing a caliper double-take at 6.7 millimeters. That's a whole .4mm thinner than the RAZR – a vital statistic when space in your skinny jeans is at a premium. This is almost certainly the same hardware as the Arrows-F-07D that made its way through the FCC last month.
Under the hood, the ARROWS ES has a 1.4Ghz CPU, a 5 megapixel camera, a MicroSD card slot, NFC and a TV tuner for Japan's terrestrial mobile television. 512MB of RAM will probably handle Gingerbread 2.3.5 just fine, but it might start to chug a little if and when Fujitsu upgrades the phone to Ice Cream Sandwich. A single gigabyte of user-accessible storage won't win it any fans, but the 4-inch, 800 x 480 AMOLED screen might.
Fujitsu is claiming an IPX5/IPX8 waterproof body and Gorilla Glass, surely a boon in competing with the RAZR's tough-as-nails marketing. In addition to being thinner than the Motorola phone, it's also shorter and slimmer, with a complete set of dimensions at 64×127×6.7mm. Keep in mind that includes a smaller, lower-resolution display, and the ARROWS ES doesn't have to make room for an LTE radio. There's no price or date mentioned, though the phone is bound for NTT DoCoMo. What are the odds of seeing this beauty on American soil? Normally I'd say somewhere between slim and none, but that FCC filing gives hope that it may land on AT&T or T-Mobile sometime next year.
[via TechCrunch]