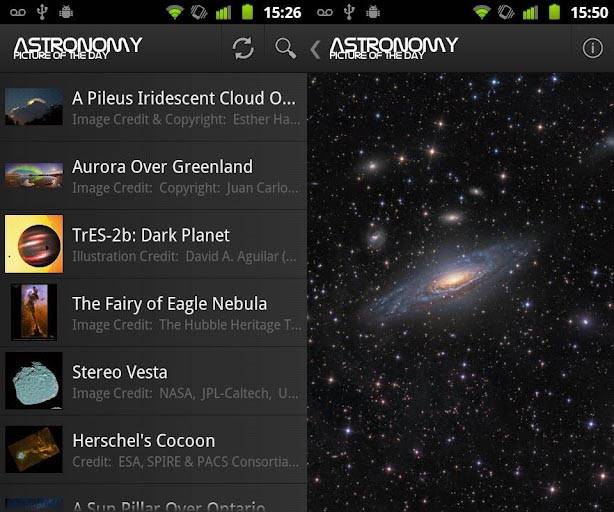 I've often considered that the only reason that the infinite reaches of space exists is so that nerds can have awesome photos to set on their computer desktop backgrounds. There's any number of options for Windows and Mac users to choose from, but when it comes to quality space wallpaper for Android, the selection is a little lacking. If you're looking for real photos from the Hubble Space Telescope and other astronomical hardware to put on your Android phone, look no further than Astronomy Picture of the Day ("APOD"), a free download from the Android Market.
This app browses NASA's repository of thousands of photos from all over the universe and delivers them to your phone or tablet. Not only can you select a particular photo and instantly apply it to your home screen, but the app can automatically update your wallpaper with a new photo every day. For those seeking variety this is a slightly better option than a live wallpaper, as the developer claims that is won't drain your battery constantly. Users can set the time of day that the wallpaper will update, search the database of previous "APODs" at any time and download them, and a full article entry is included on each photo for scientific information on exactly what you're seeing.
Astronomy Picture of the Day is free and ad-supported. If you like it and want to get rid of the adds, download the donation version for three bucks. (Seriously, if you like the app, be a good Android citizen and pony up.) If you'd like something a little more fanciful, be sure to check out Maxelus.net's series of "Galaxy" live wallpapers, all of which are both free and downright awesome.