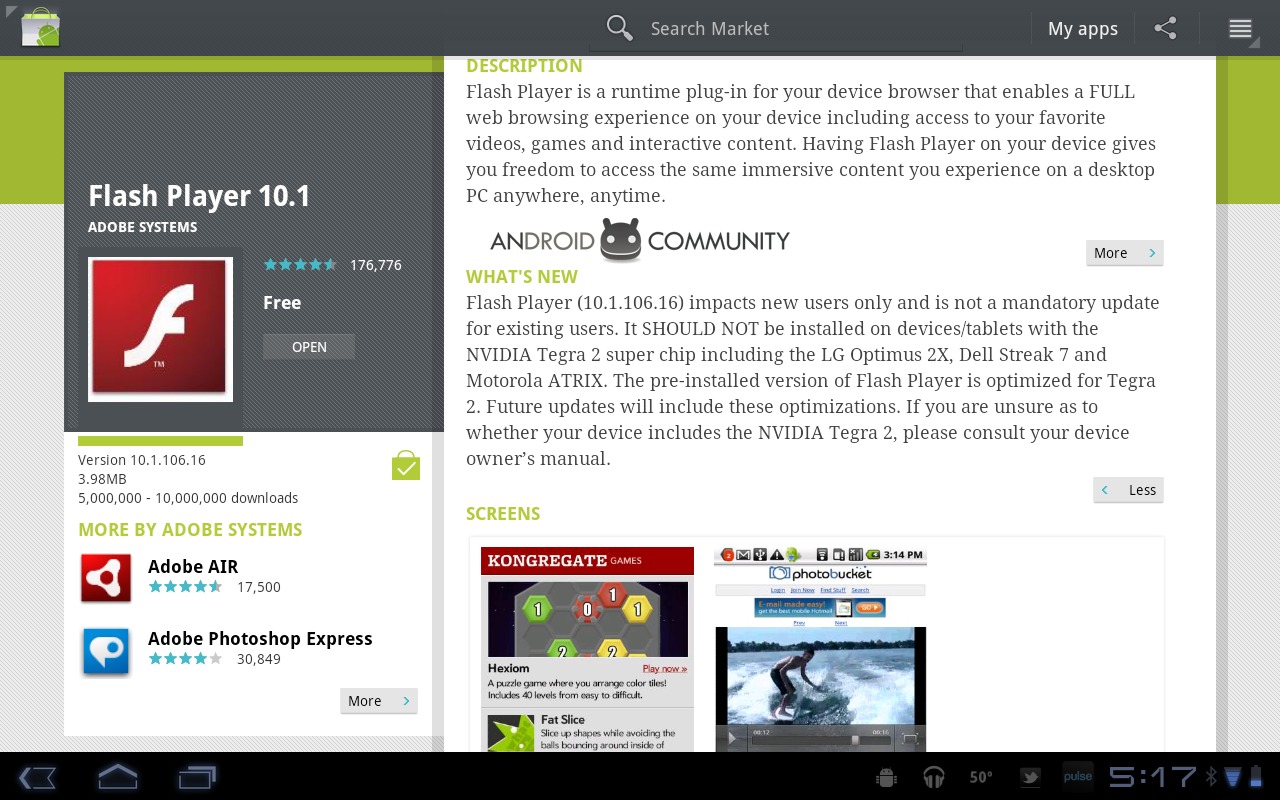 As you might have guessed, today is indeed the day that Adobe releases their new version of Flash Player, that being Flash Player 10.2, to the world. However, there is a bit of a complication in the title, as in some places it's listed as Flash Player 10.1, and in others it's listed as 10.2. The correct link for the update is below, but before you go there, make sure your firmware is updated to the point it's supposed to be at, especially if you're using the Motorola XOOM.
To get the update you need on your XOOM, all you've got to do is go to Settings, then About Tablet, then System updates. If when you click this button your tablet informs you that your system is currently up to date, more than likely you're set to go. If you are sure you did not receive [this update] which would bump you up to Build number HRI66 and Android version 3.0.1.
To get the new version of Flash, head over to [this link right here] which goes directly to the Android Market where you'll be able to install or, if you've got a device that already worked with Flash, simply update. If you hit this link with your tablet and it shows up as 10.1, don't fret, install it anyway. Soon it will be listed as 10.2 and all will be well. Meanwhile you'll have Flash and your life will become all roses and daisies.
Also note that they're calling this a BETA release for Android 3.0.1+ tablets and a "finished production quality release for Android 2.2 and Android 2.3 devices."
BONUS here's the product description:
Bring the FULL web to your device with Flash Player- videos, games, apps & more

Flash Player enables a FULL web browsing experience.

NOTE: This is a finished production quality release for Android 2.2 and 2.3 devices and a BETA release for Android 3.0.1+ tablets. Please check with your device manufacturer or carrier to ensure you have the latest firmware update for your device.

Flash Player delivers access to your favorite web videos, games and interactive content. Flash Player on your device gives you:

• The freedom to access the same rich web content you experience on a desktop PC from your mobile device – anywhere, anytime; 
• Uncompromised browsing without 'empty boxes' on web pages.

For optimal performance and the most immersive experience on Android 3.0.1+ tablets, view Flash Player delivered content in full screen by using the menu buttons provided by content providers, or by tapping content once followed by a long tap to bring down a button in the upper left corner which can be tapped to enable full screen mode.

By clicking "Install" I agree to the License Agreement terms at http://adobe.com/go/eum. Manage your privacy settings at https://settings.adobe.com/flashplayer/mobile.