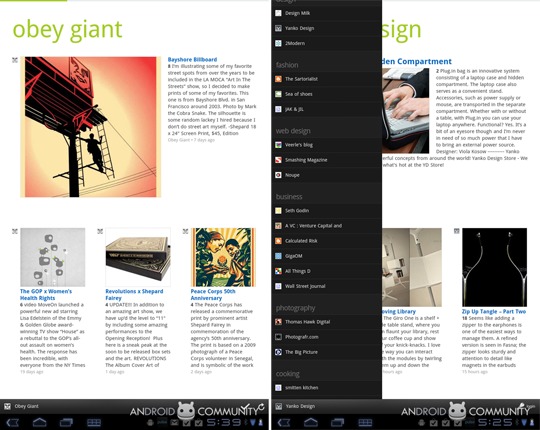 What you're about to see is a fantastic free app from the folks at Feedly. This is an RSS feed reader you can use on your Android tablet, (or your smartphone, or your Chrome browser, or etc, etc,) as it's quite versatile and, in addition to several more platforms across many devices, looks fabulous on a big screen. This app is not entirely perfectly ready for Honeycomb, as you'll see in the video, but we're already using it as its totally amazing even in this skeletal state. This is the BETA version for Android, not even tested on XOOM until we get our hands on it. Have a peek!
First Impressions
When you first enter this app, you'll have a series of feeds already displayed for you front and center. In the full working version of this app, there's more options here, and it's a bit cleaner, but we're just going to go ahead and judge this based on where we are at the moment, as there's not many bad things to say about this whole situation. That said, we wish SlashGear and Android Community were in the pre-sets – let's make that happen!
Next you'll find that not only is it intensely simple to add feeds at your leisure, you have the option of connecting directly to your Google Reader account. You'll want to do this because it shoots all of the feeds you've already got set up directly into the reader and gives you the option of looking at any set of feeds you've already got set up in Google Reader. Simple, super, neat.
Viewing Stories
Each story is opened in a simple separated manner (based on the way the original blog has it set up, of course, but basically the same no matter what the original blog has provided.) This looks good, basic, shows you what you need to see if you just want to read a story, but then there's also a "Mobilize" button you can use to what I call "smash" the article up into a more essentially squished version. All images are smallish to start with, but you can click them to view them bigger. Videos don't appear to work in several places, but you've got the ability to jump directly to your web browser for that.
Then there's the in-app web browser. You've got this option in addition to being able to jump out into whatever other browser you've got available. This in-app browser looks as good or better than every other browser we've used on the XOOM thus far. Then of course there's the button that allows you to insta-copy the web address to the story you're reading to your clipboard for later pasting.
[vms c7b95282d10b6087e11c]
Wrap-up
Like all other similar apps (like Pulse, which is undeniably the biggest competitor,) you've got to try it yourself to see if it's the one for you. Unlike pulse, there's no limit to the amount of feeds you can read, and if we might be so bold, the layout on this app (the full version, mind you, not this Beta version, might even be better than Pulse – DONT HATE! Pulse should love the competition.
This app is totally free, especially since it's in Beta, and you can download it not only on your Android device, but on several other platforms as well. Check out their homepage] for plugins for your desktop browser if you like, but make sure you head to the [Android Marketplace to give this app a free whirl.]