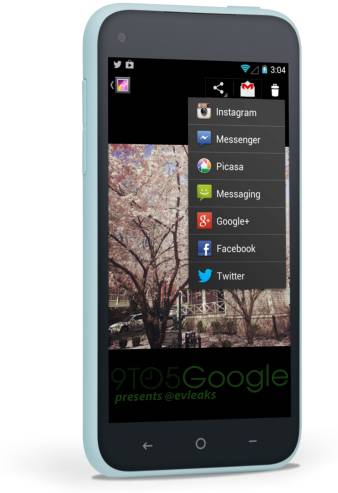 Another day and another leak of the much rumored and hyped Facebook Phone. Yesterday we received what appeared to be the first official press render of the smartphone, but today we have something even better. This time around images have leaked complete with the Facebook Home user interface front and center giving us a look at their spin on the Android OS.
Leading up to tomorrows event where Facebook will unveil all the details, we've heard reports and rumors suggesting they had their own complete version of Android but then later those were shot down with confirmations of "Facebook Home". Today we're seeing exactly that. Their Home screen replacement that covers up stock Android.
The screenshots and press images you see above (and below) are giving us our first look at the Facebook user interface. Which clearly shows their plan to offer a streamlined experience with content being delivered right to your face. The image gives us a look at what appears to be stock Android Jelly Bean, then obviously is covered in Facebook's skin. It's an interesting approach. We can't wait to try it!
These lead us to think the phone won't have any of HTC's usual Sense UI parts, and instead be completely vanilla Android with a strong flavor of Facebook over the top. Interestingly the main home page appears to show notifications of all types in one card-style box. The leaked image provided shows a Facebook message, missed call, and Instagram photo all in one feed.
Is this Facebook's plan for Android? Instead of using the typical notification bar they'll be pulling everything together in one location and neatly delivering it to the user – with bits of the social network obviously taking charge. We don't have much more of a wait, and we'll be live tomorrow at the Facebook event with full details, pictures, and video so stay tuned!
[via 9to5Google]