The new Facebook application for Android has the same features but a completely revamped UI. If you've ever used Facebook for iOS, then you may find it nearly identical. They completely did away with the home screen from the previous version, and replaced it with the slidebar pictured below. It's more fluid, and I found it much more responsive when navigating through pages.
Instead of having to return to the main menu to view friend requests, messages, and notifications – the new interface incorporates a pop-up that overlays the currently viewed content. That alone makes it feel speedy. Changing your status or even uploading a photo/video can now be done from their respective static locations at the top of your News Feed section.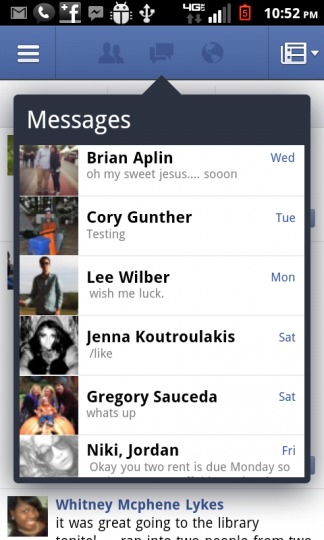 Oddly, after using this application today it was easy to stop using Facebook Messenger altogether. The messaging within the updated application works extremely well, and the only feature not included is the ability to see when a friend is typing. Games or applications you had access to on the desktop version of Facebook are now available for viewing directly from the newly included navigational pane as well.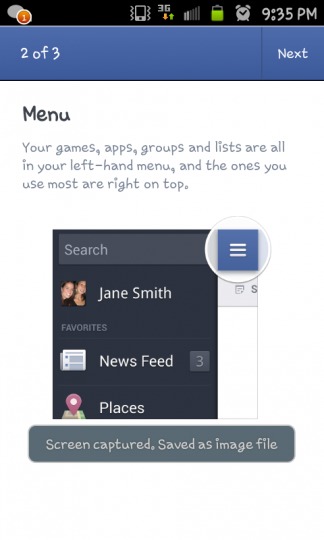 Before this update I found the mobile version of Facebook accessible through the browser much easier to navigate, but these unexpectedly added improvements have definitely converted me. Surprisingly enough, there haven't been any noticeable bugs in this version – and it's no doubt the most polished one to hit Android yet.
UPDATE: On the Galaxy Nexus, the application tends to retain previously read messages as unread. Post any other bugs you may have in the comments below.
UPDATE 2: As of now, it seems when trying to change your profile picture within the application it results in a nasty force close. Thanks Jwhap!
[Facebook in Android Market]