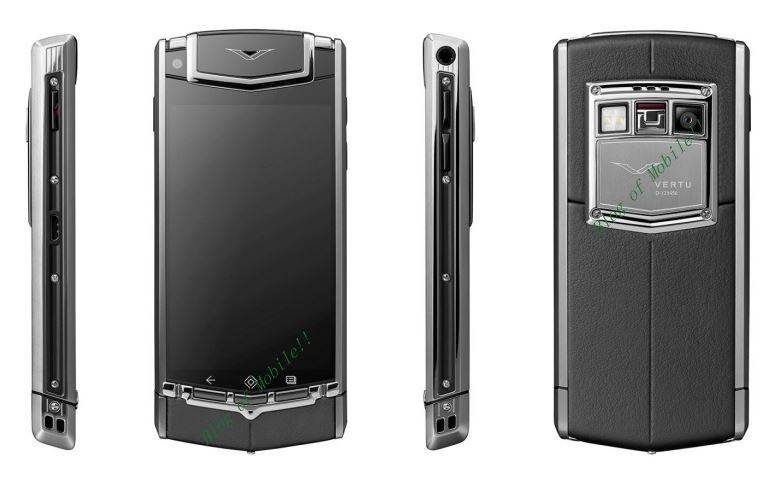 Earlier today, we heard a rumor that claimed a new Vertu phone is in the works. The rumor essentially said that two major things will be changing with this latest Vertu phone. First, the Vertu brand will drop Symbian in favor of Android, and second, this latest Vertu phone will be far less expensive that previous iterations (though it's still going to cost an arm and a leg). Fast forward to now, and we're hearing new details about the device.
Blog of Mobile spotted a GLBenchmark listing for a device called the Vertu Ti, noting that it's running Android 4.0.4 on what seems to be a Qualcomm MSM8260A Snapdragon dual-core processor clocked at 1.5GHz. The resolution of the device is only 480 x 800 and it's only packing a wimpy 1,250mAh battery. Apparently, the device will be announced sometime next month.
In another Blog of Mobile post, we get what may be our first look at the Vertu Ti. The picture you see above is the supposed leaked image, and it certainly does look like a professionally-made shot. It's here we learn that the Vertu Ti will also come equipped with Bluetooth 4.0 and NFC functionality, so while the other specifications leave something to be desired, at least we have those two features on board.
Meanwhile, an Engadget reader brought attention to a listing for a phone called the Vertu Constellation Ti at Russian retailer spblux.ru. There are actually four variants of the device listed there, so it looks like Vertu owner EQT is going big with the Constellation Ti. Just for good measure, we'll also point out that the Constellation Ti has made an appearance over on Bluetooth SIG, adding to a pile of evidence that seems to be growing by the minute.
So there you have it – unless all of this evidence has been faked, then it appears EQT is planning a new release in the Vertu line. Of course, in keeping with the tradition, the phone's specifications aren't anything to write home about, with the real draw of this new device being its blinged-out design. No word on pricing just yet, but Eldar Murtazin – the Russian blogger who started this whole thing – pegs the device with a price tag around €3000. We'll have more details on the Vertu Constellation Ti if they become available, so keep it here at Android Community.