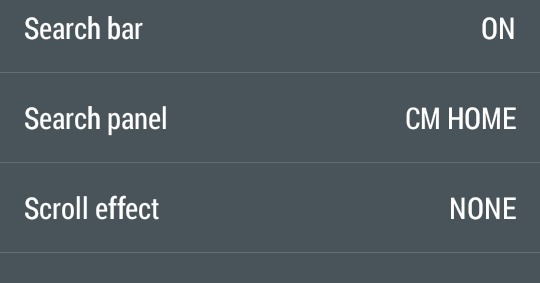 CyanogenMod has teased before that it was working on CM Home, which implements a sliding panel behavior ala Google Experience/Now Launcher. That CM Home is now starting to make its way to CyanogenMod 11 nightlies, but its early revelation seems to be drawing some conclusions that this would be CyanogenMod's Google Now killer when in truth, even according to its developers, it is far from it.
The confusion is perhaps due to the deep integration of Google Now into the Google Experience Launcher (GEL), or Google Now Launcher, that debuted in Android 4.4. The truth is that the two are two separate things. GEL's behavior, where you swipe to the leftmost homescreen to bring up a specialized panel, was already present in the Android Open Source Project (AOSP) launcher but well hidden and empty. In GEL, Google integrated Google Now into that panel. The CM Home option in the latest Trebuchet enables that "search panel" as well. For now, CyanogenMod has also put Google Search into that panel, but that is not the goal and only a filler.
CM devs made it clear in follow-up Reddit comments that they are not trying to create a "Google Now killer", and they don't even plan to, considering they don't have the resources to even stand head to head with Google's machinery. But they are looking to providing something similar that lets users peek at relevant and timely information at a glance, and for this they are looking to Dashclock. Yes, they are bringing Dashclock lockscreen widgets to the homescreen, which sounds a bit absurd at first. However, Dashclock is one of the few, if not the only one, that provides API for other app developers to hook into in creating their own information or control widget for the lockscreen. It is only reasonable, then, that CM would leverage on that instead of having to write their own stuff from the ground up. A second motivation is that Dashclock users might actually need a place to put those widgets when Android L rolls out. The reason, according to CM developers, is that the new Android L lockscreen changes the rules of the lock screen, making Dashclock almost irrelevant there. Thus, CM Home could be their new home, no pun intended.
So there you have it, straight from the horse's mouth, so to speak. CM Home is not an answer to Google Now, but could turn out to be an even better alternative, especially for those who want to stay clear of Google's smart, data gathering feature. That said, there is still much work to be done, particularly in expanding Dashclock's scope and API to accommodate this new use case. But with this confusion dispelled, the developers can get back to working on that instead of reading and clarifying comments on Reddit.