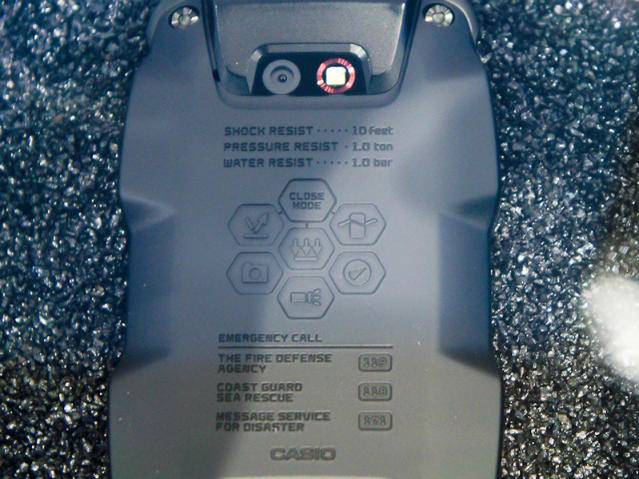 Choices for ruggedized Android phones are a little sparse in the United States – at the moment, your best option is probably the Casio G'z0ne (AKA Commando) from Verizon. It's a little small and out dated, but it will (to borrow a competing slogan) take a lickin' and keep on tickin'. If the current model is too small, conservative and, well, attractive for your manly tastes, wait a few months and you might be able to pick up the G-Shock, a new model based on Casio's well-known tough watches. It's covered in rubber and steel, waterproof to ten meters, and it looks like a bag full of pig knuckles. G-Shock Zone got a hold of some photos from the CES booth.
The G-Shock takes design cues from the watches that inspired it, which to be fair look rather fetching in a sporty kind of way. Blow that up to a 4-point-something screen and it looks significantly less dashing. That said, if the intent is to make a phone that can survive your average nuclear attack, this might be it. It's shock resistant for 10 feet, and can handle up to a ton of pressure before cracking – let's see the "Kevlar-strong" DROID RAZR do that. Even so, it includes all the basics, including physical Android navigation buttons and a camera with flash.
The phone is just in the concept stage at the moment – Casio was showing it off for potential vendors at CES in early January. But with the current dearth of ruggedized phones, you might be seeing this one on store shelves within the year. There's something alluring about having a phone that's rated to survive the average NFL kickoff rush – it's probably got something to do with the fact that you could use it as the ball.
[via Droid-Life]