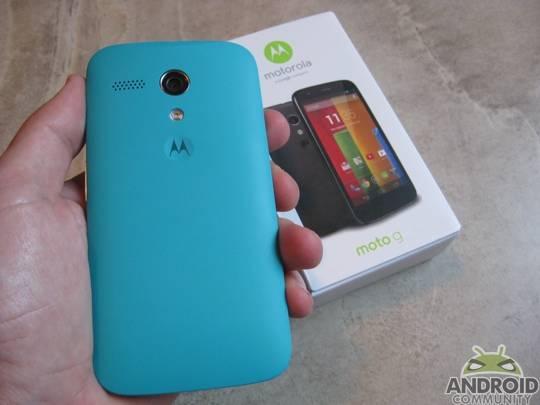 Rumors of a Boost Mobile Moto G surfaced last week and it looks like the handset has quietly come available. The catch here is the availability. For now it seems that is limited to HSN, the Home Shopping Network. The Moto G is priced at $129.99 and those considering a purchase will be able to choose from a handful of color options.
Or more specifically, chose between a handful of color options for the included case. The Moto G itself is sporting a black back cover. The case, which is included in that $129.99 purchase price, is available in black, blue, purple and tan. Along with the case, the Moto G ships with an AC wall adapter and DC car charger. There is also a $30 mail-in rebate offer available to further drop the price.
There is some fine print for the rebate, but the key dates are how the purchase will need to be made before January 17th and service must be activated before February 28th. Furthermore, the rebate request must be made before May 1, 2014.
Service options include the $55 Monthly Unlimited with Shrinkage Plan. This includes unlimited talk, text and web. The shrinkage comes in with making on-time payments and means your monthly price can eventually drop to $40.
As far as the phone goes, this is the 8GB model, which has roughly 5.5GB of usable space. Other specs for the Moto G include a 4.5-inch 720p touchscreen, quad-core 1.2GHz Snapdragon 400 processor, 1GB of RAM, 2070 mAh battery, 1.3 megapixel front-facing camera and 5 megapixel rear-facing camera. That all being said, those looking for more about the Moto G should hit the Story Timeline below, or check out our full review.
VIA: 9to5 Google