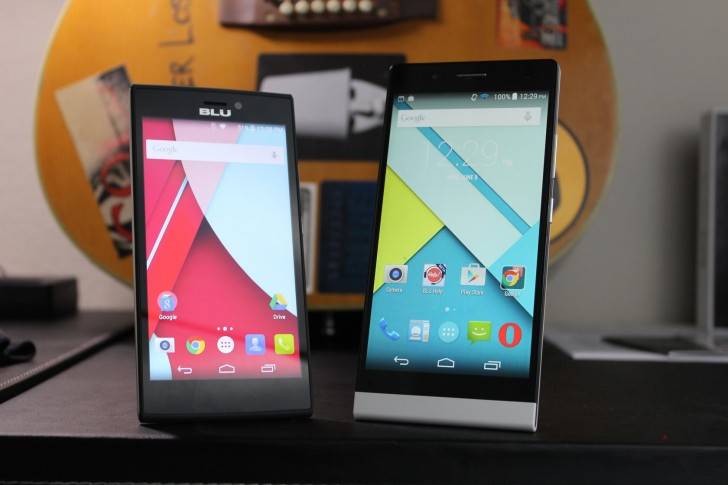 BLU Products is now a known player in the entry level to mid-range market in the US – this comes from their recent track record of producing bang-for-the-buck devices. With BLU, you know that the specs aren't going to be that premium, but the phones they produce should do the job. It looks the same with these two new products, the BLU Life One and the BLU Life 8 XL.
The BLU Life One is actually a move away from what we're used to with the manufacturer – they're using a premium 64-bit Qualcomm Snapdragon 410 processor for this phone to power the 5-inch HD (720p) IPS display, along with 1GB RAM. The upside of going with the Qualcomm chip here instead of the usual MediaTek one is that this phone will have LTE connectivity. We just feel that the 1GB RAM, along with a measly 8GB internal storage (expandable with microSD) might cause lags in daily usage. The software is listed at KitKat today, but Lollipop updates are promised.
The BLU Life 8 XL has a 5.5-inch HD (720p) display powered by an octa-core MediaTek MT6592 processor, supported by 1GB RAM and 8GB internal storage. The upside here is that the MediaTek processor is speedy and comparable to Qualcomm's Snapdragon 800 in performance. The downside? No LTE, as this is still the last generation of Qualcomm's non-LTE chips. As with the Life One, this runs on Kitkat at the moment, but will be updated to Lollipop soon.
Both of the products are available on Amazon at pre-launch discounts. At USD$99.00 for the BLU Life One and USD$79.00 for the BLU Life 8 XL (the latter from June 22 to June 30) – these phones represent major budget deals for those looking for cheaper alternatives. Standard retail prices are USD$149 for the Life One and USD$129 for the Life 8 XL.
SOURCE: BLU Products