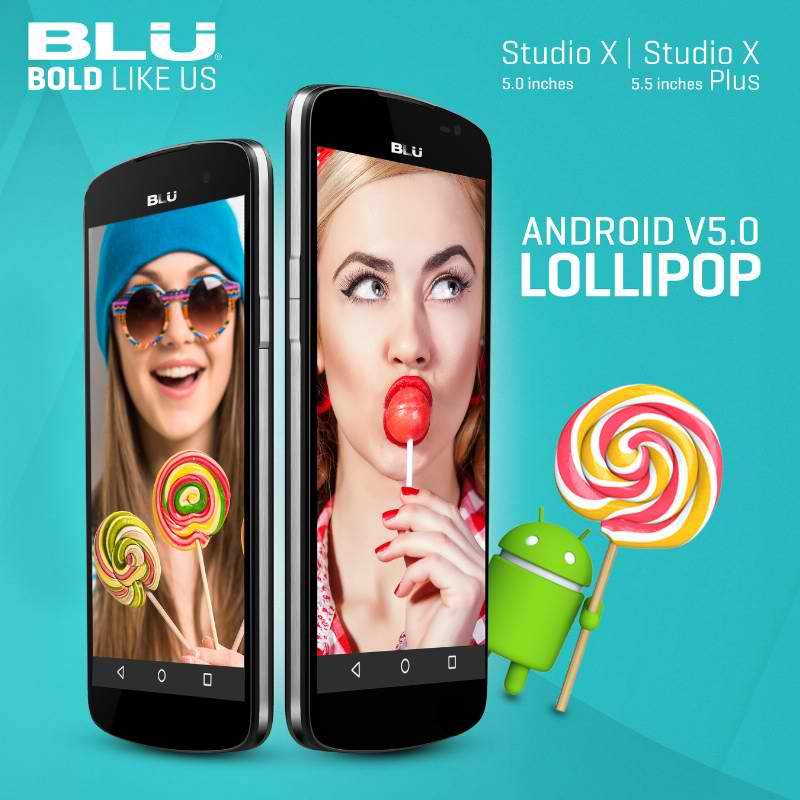 If you're a fan of the US-based unlocked mobile phone manufacturer BLU Products, or if you own any of their budge smartphones, then you'll be pleased to know that they have announced that several of their devices will be upgraded to Android 5.0 Lollipop. The members of their Studio X series that launched just last January are the first out the door, to be followed by some of their newer devices as well.
The Studio X and X Plus handsets were introduced to the public at the CES earlier this year and it was pretty good for an entry-level budget LTE device, with their 5.0/5.5 HD display with the 720×1280 resolution. Owners of these smartphones will be the first of the BLU Products to receive the Lollipop update and in fact, the OEM has started releasing the OTA update for the devices. Also receiving the latest major Android update this month is the Studio 6.0 HD, their budget-friendly phablet which was released in April of last year.
Later this year, with July being the target or estimated date, other BLU devices will also be upgraded to Lollipop, namely, the Life One (both the 2015 and the XL variants), Vivo Air, Life 8 XL, and the Studio Energy. There is no word yet if other earlier models will also be upgraded, but basing on BLU CEO Samuel Ohev-Zion's statement, reiterating their commitment to bringing the latest software to their users, then maybe we can expect some more of their smartphones to also be Lollipop-ized.
All who receive the update will enjoy what others have been experiencing this past months when upgraded to Lollipop, including Material Design, a better UI, locked-screen notifications, new quick settings, and a battery saver feature. Check if your BLU smartphone already has an update notification and if you don't have it yet, just be patient a little while longer.
SOURCE: BLU Products