If a certain Russian blogger is to be believed, Android powerhouse Samsung will be teaming up with struggling Blackberry and they will be producing an Android smartphone that will have BB services (which some people are still dependent on/loyal to). This rumor comes days after another report that the next Blackberry phone will not be running on the much discussed Blackberry OS but rather on the more ubiquitous Android platform.
In a tweet from Eldar Murtazin, who has had a hit and miss record when it comes to rumors and leaks, he said "Samsung + Blackberry = Android Smartphone with Lollipop + BB services". Now we don't know if he's just speculating in his head or he actually has insider information, but rumors about Blackberry's foray into Android have been around for some months now. During the World Mobile Congress earlier this year, the Blackberry Slider or Blackberry Venus was shown, and when photos were leaked, people remarked on the similarity with the Samsung Galaxy S6 edge, with both having dual-edge designs.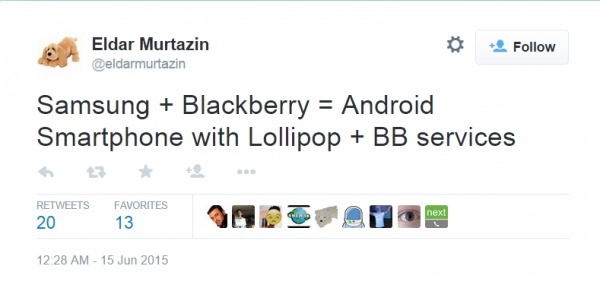 Just a few days ago, Reuters reported that the next Blackberry may very well be an Android device. Details were scarce though so we don't know if this will be the last Blackberry 10 series or a totally new line of devices. While the past years have seen Blackberry become a cautionary tale for tech companies that refuse to adapt to changes, CEO John Chen still remains positive about their prospects. And even though he said a few years ago that they won't be going Android, if these rumors are true, then he obviously changed his mind.
The leaked images and details of the Blackberry Slider or Venus showed and said that the slider handset would have a 5.1-inch dual-edge display sporting 2K resolution and would be powered by an octa-core processor. What will reportedly make this device different is that it has a QWERTY keyboard that would slide out and make old-school Blackberry loyalists right at home, even if it is on Android.
VIA: NDTV