Right at the end of the year, when gadget manufacturers are baring their wares and products for the holiday shopping rush, there is a different race going on for chipset manufacturers – a race to convince the gadget makers which chipset to use for their gadgets the following year. For now, we can narrow that race down to the flagships – the Exynos 8 Octa has already been announced, so too Qualcomm's Snapdragon 820, Huawei's in-house Kirin 950, with Apple's A9 chip and MediaTek's Helio X20 among the earliest to be unveiled this year.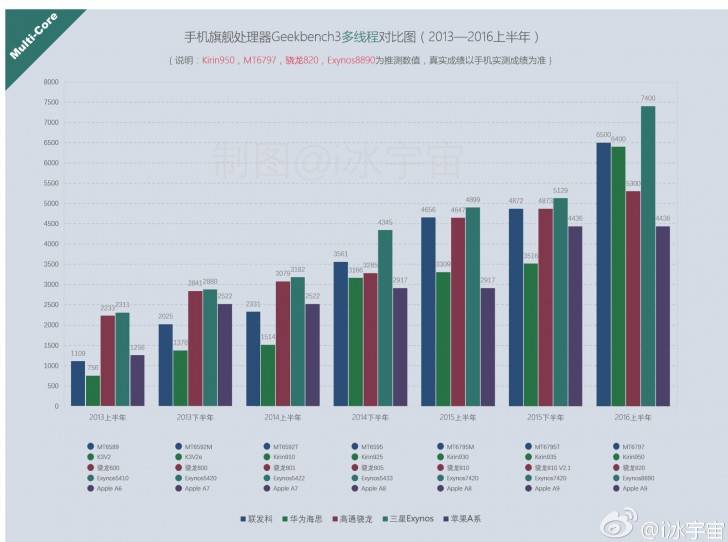 Benchmark results are a dime a dozen, but you'd probably pay in gold to see all these side by side. Look no further, as this Chinese source has done what was needed to be done – measuring with Geekbench3 the multi-core performance of each chipset and the single core performance. The results are in, and if you buy the validity of the test, it says that the multi-core king for next year will be the Exynos 8890. Following surprisingly close is MediaTek's Helio X20, shedding that "low cost" reputation, and Huawei's Kirin 950. Qualcomm's SD820 surprisingly lags behind the competition, and Apple's A9 only has two cores, so it will suffer in a multi-core test.
Don't be too quick to judge Apple's chipset – it rules in the single core performance. It may have only two cores, but each core will give you a lot more than anyone else. That may turn the tide for some, but we hope there will be a big change for Apple's next chipset. The Exynos chip and the SD820 are comparable in single core performance.
So there you go. Off hand, you might just be surprised at how devices powered by the MediaTek Helio X20 and the Kirin 950 will perform next year. Those chipsets put out serious performance numbers, and you can no longer call them low tier chipsets.
VIA: GSM Arena