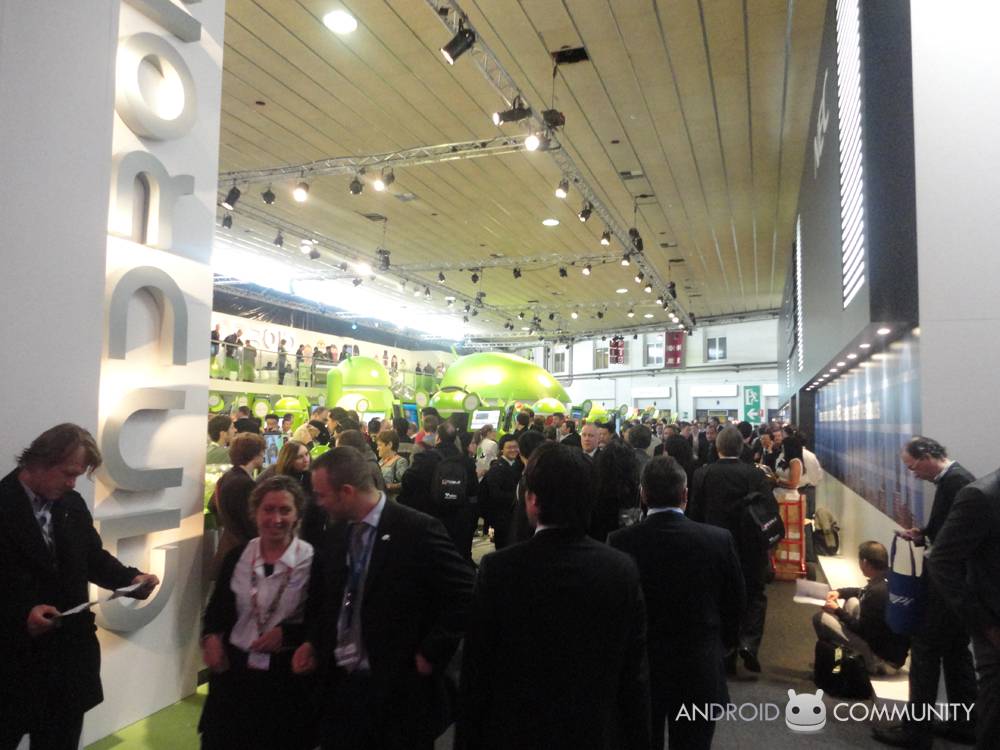 We're here still at Mobile World Congress 2011 in Barcelona and we've filmed for all you non-travelers a short walkthrough of Google's magnificent presence in Building 8 of the convention. This "booth" is either the largest or one of the largest exhibits in the entire convention, and certainly many people's favorite. I'll get into a bit more about Google's tactics for going viral in the convention via creative advertising, but here we'll just take a walk through the big fat Google playground.
Google has positioned itself in a room sort of in the back corner of one of the buildings in a place where no matter where you enter, the vision is something like engulfing. It's a vision of joy, though, as you cannot help but get a bit of a grin on your face when you enter the room as it's bright green and full of giant-sized Android figures. Around each of these uniquely dressed Andy totems is a series of developers / designers / representatives of apps and brands working on or with Android. Each of the apps represented by these people were hand picked by Google to represent Android.
On one end of this little town of developers is a help desk where you can ask all your questions, get directions to the other end, or grab an Android pin (which we'll talk about extensively very soon,) or a tiny green candy. On the far end of the pod, there's a smoothy bar where you can get all manner of mixes, each of them named after an update of Android, (I had Gingerbread, while my good pal Chris Davies had Cupcake.) Up on top, on the balcony level, there's a bit of a lounge area as well as three Motorola XOOM tablets running Androidify, a new app from Google, free in the Android Marketplace, that allows the user to create their own Android character with all manner of clothing, color, and accessories.
Near the back on the ground level, several manufacturers such as LG and Motorola have booths very similar to what the app developers have, with Google supplied screens and everything. Finally, all along the left half of the back of the gallery is a conveyer belt running glass containers with essentially every single iconic bit of technology ever to run Android (phones and tablets all.) If you were lucky, every once in a while a Google rep would walk by with a full case of Android boxed toys from DYZPlastic and you'd be able to grab one for free – series 2 even, not even for sale yet anywhere in the world. All of this is punctuated by the fact that there are gigantic Androids holding up all of the displays and plastered all around the walls.
[vms 43755a79ee5f6a73050a]
Well played, Google, well played.