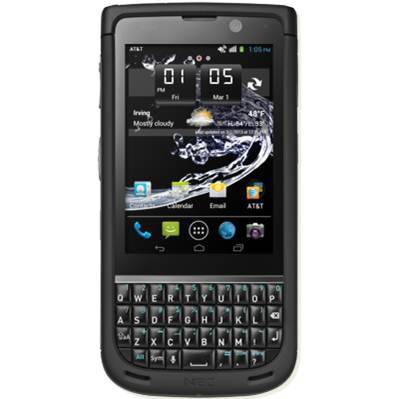 For those busy with both work and life, today AT&T and NEC have announced a device for those needing a rugged smartphone. One perfect for the BYOD market. It's for both work and play, according to NEC, and blends Android and a Blackberry into one oddly shaped smartphone. It's a rugged and military spec smartphone, and even has those Push-to-talk features some still love.
This device was first spotted back in April thanks to a few leaksters, but today we're learning all the official details, release date, and pricing right from AT&T themselves. So for those that still want a dedicated keyboard and want this phone, here's what we know as of now.
It'll be available come June 21st through AT&T Business Solutions, and online for $99 with the usual 2-year contract deal. According to NEC this phone "embodies toughened versatility and business-ready features" but all we're seeing is a rugged budget phone with a keyboard. Sorry NEC. Anywho, the specs leave a little to be desired but overall it should handle daily emails and all those busy tasks with ease.
With a 3.1-inch touchscreen covered in Gorilla Glass for protection, you'll also enjoy a dual-core Snapdragon S4 processor running at 1.5 GHz, then a 5 megapixel (720p capable) camera on the rear and VGA front, of course a huge QWERTY keyboard, and Android 4.0 Ice Cream Sandwich. More details can be found from AT&T themselves, soon, because their product page appears to be broken. I'd rather get the Galaxy S 4 Active.
SOURCE: AT&T