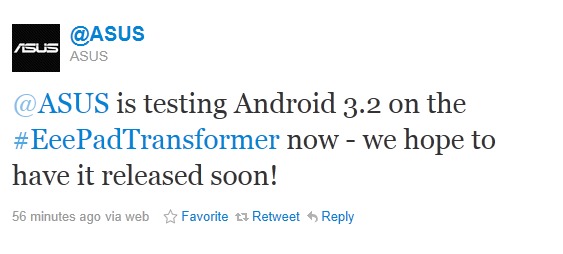 We have just received word that the Asus EeePad Transformer will not be left out of the Android 3.2 Honeycomb circle. If you recall the Motorola Xoom started getting 3.2 Honeycomb OTA early yesterday and quickly after it was available for download. ASUS didn't waste any time and have updated everyone on the Transformers status.
Today @ASUS outed the news that they too are getting 3.2 Honeycomb and that they are currently running it through the testing phase and it will be "coming soon". This is great news and we can assure you they will get it rolling out OTA (Over the Air) as soon as possible. They didn't mention much else regarding the update but we can assume it will have all the same updates the Xoom received as well as a few bug fixes most likely.
I don't know about you but we have perfect timing here at Android Community. We are giving away just that, a ASUS EeePad Transformer THIS WEEK in our Tabletpalooza Giveaway. Yup a brand new Transformer will get shipped to a lucky follower sometime next week. you'll have to open the beautiful tablet and accept the 3.1 update and by then hopefully ASUS will be rolling out Android 3.2 to the Transformer. Again make sure to click here and enter the giveaway.
[via Twitter]