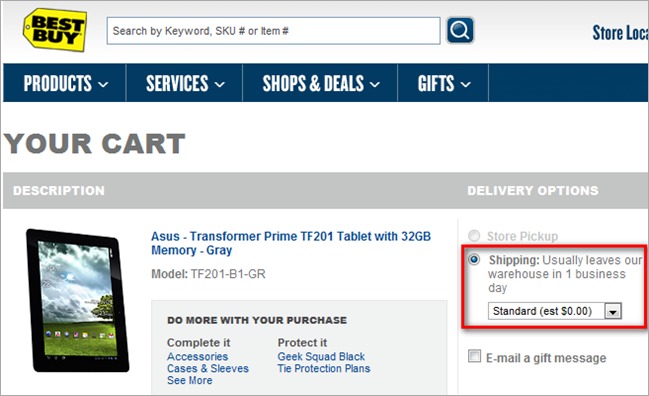 The ASUS Transformer Prime seems to be available for shipping now! Over at Wireless Goodness, a screenshot was taken of their webpage showing the item was available for free delivery. The fine print even stated it "Usually leaves our warehouse in 1 business day". This would essentially mean a possible December 27th delivery.
The only version of the device available is gray and has a 32GB internal storage. Hurry and order here before this much sought after item sells out! The accessories are currently unavailable, but keep an eye out as they may be soon. With Christmas right around the corner, I wouldn't be surprised if Best Buy backorders from the overwhelming amount of purchases.
Included in the box, is the ASUS Transformer Prime with 32GB internal storage, its lithium-polymer batter, an AC adapter, power cord, and owner's manual. It's too bad a bundle with the keyboard dock isn't available, as that is what really sets this tablet apart from the rest. The tablet will ship with Android 3.2 Honeycomb and ASUS confirmed an update to Android 4.0 Ice Cream Sandwich soon. Those of you have haven't seen it – check out our review of the device here!
[via Wireless Goodness]