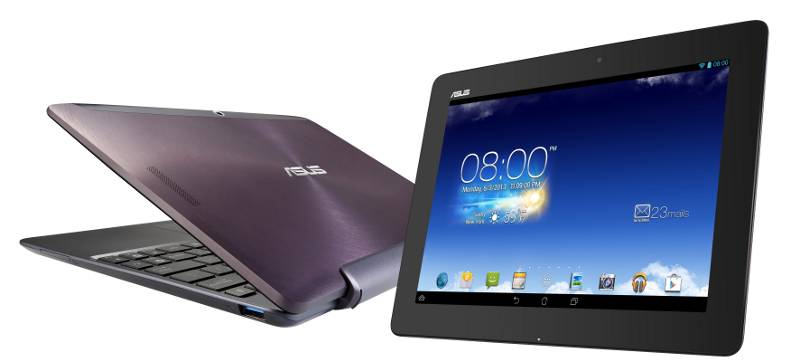 This morning the team at ASUS has been quite busy. The folks from ASUS just announced a slew of new products on the first day of Computex 2013 in Taiwan. From a 6-inch FonePad Note to take on Samsung's GALAXY to tons of tablets and more. One that stood out however, is the New Transformer Pad Infinity complete with an ultra HD display and NVIDIA's new quad-core Tegra 4 processor.
Live on stage ASUS confirmed yet another Transformer Pad Infinity is in the works, only this one has been improved across the board. Sadly they're sticking to the same useful (yet old) design, and that single speaker is still in a terrible location, not to mention the squared and uncomfortable edges. We were hoping for a new design, but will take the boost in performance and hardware.
It shares the same name and design as the model from last year, oddly, but internally everything has been severely improved. From beefing up the processor to NVIDIA's latest powerhouse flagship 1.9 GHz quad-core Tegra 4 and 2GB of RAM, to offering a 10.1-inch 2560 x 1600 truly HD LED display. We'll get the same 32GB internal storage, 5 megapixel rear and 1.3 front cameras, as well as a micro-SD slot and all the usual goods. Here's the rundown.
As you can see they are simply calling it the "New" Transformer Pad Infinity, which we aren't a fan of that idea, but whatever works right? The keyboard dock now supports USB 3.0 and full size SD slots, and that Tegra 4 under the hood enables the device to output Ultra HD 4k video with HDMI-out.
ASUS has been quite so far in 2013 but this is one impressive and well-rounded tablet, we just wish it would have received a design change too. Stay tuned for more details and official pricing, which should be coming soon and are expected to be similar to the original.
SOURCE: NVIDIA Blog