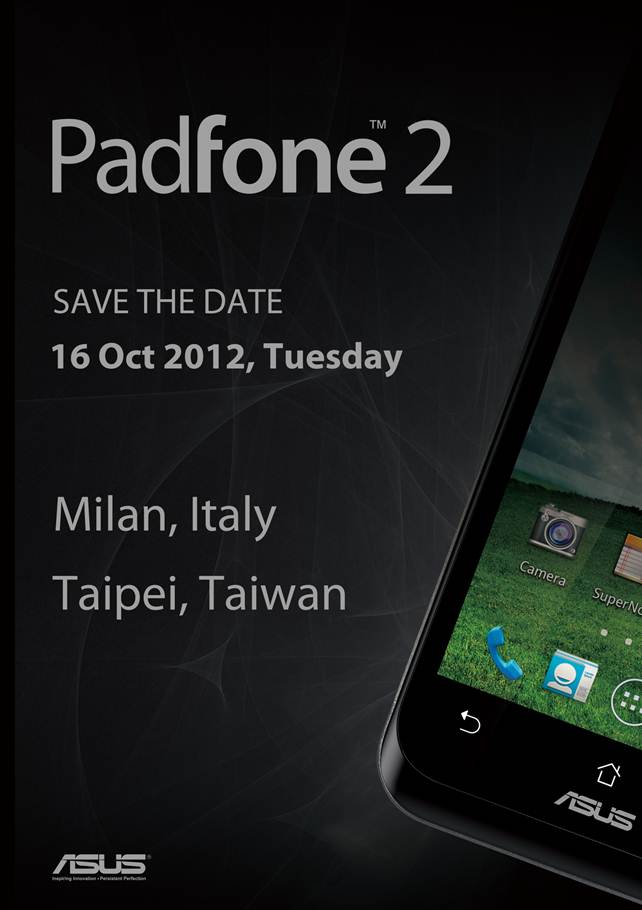 Just a few days ago we heard about a new Padfone through a leak with benchmarks and all. Today, we saw this enticing invitation to join ASUS as they launch the Padfone 2 in Italy and Taiwan on October 16. Hopefully this time they'll send it off to the US for us Americans to enjoy.
The invitation doesn't say much more than what's on the invite itself — what you see is what you get. It does gives a little sliver of the new Padfone 2 device, but other than that, it just tells us to "save the date" to what looks like will be a blissful event for those that have been waiting on a second-generation Padfone.
The Padfone 2 is rumored to come packing with a Qualcomm Snapdragon S4 Pro quad-core processor (the same CPU that's in the LG Optimus G) and 2GB of RAM. Since the leaked benchmarks are mostly in Chinese, it's hard to tell what other fun stuff it has, but Ice Cream Sandwich looks to be what's running on the new device.
We can obviously expect a sleeker design and faster hardware, possibly a 1080p HD screen as well. We can only wait and see what fun stuff ASUS has in store for us, which thankfully is only less than a month away. If you've been waiting a while for ASUS to pull off a second-gen Padfone, have your wallets at the ready and get in the pre-ordering mindset.
[device id=2345]
[via PocketDroid]