We've heard reports that ASUS is gearing up to release a follow up to the original PadFone, and today it might have leaked in some AnTuTu benchmarks. We're seeing what is listed as the ASUS PadFone 2 and it comes complete with some impressive specs that will surely make it a powerful smartphone tablet combo.
According to the leaked benchmark result found by Tablet News the PadFone 2 will have some top tier specs — which is expected with 2013 approaching. Some of those include a powerful quad-core processor and 2GB of RAM. You can bet that stylus/headset will be present this time again too.
The image below doesn't reveal too much but has certainly caught our attention. If the leaked benchmark is accurate we'll be seeing the newly announced Qualcomm Snapdragon S4 Pro quad-core processor under the hood, 2GB of RAM, and possibly more although we don't have too many details at this point.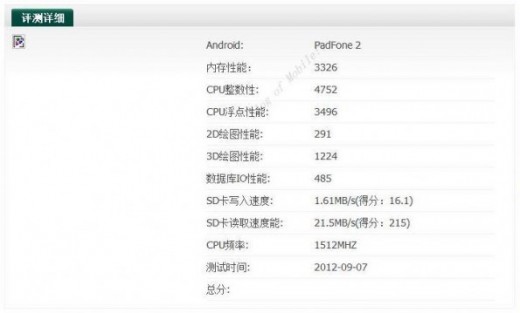 The leak also appears to show Android 4.0.4 Ice Cream Sandwich on board, but surely it will launch with at least Jelly Bean given ASUS has been quick with updates in the past. We can expect a sleeker design, possibly a 1080p HD screen and more but until actual hardware leaks or a release date appears we'll just have to wait and see. The idea was great the first time around, and hopefully ASUS will improve this neat tablet even more for round 2.