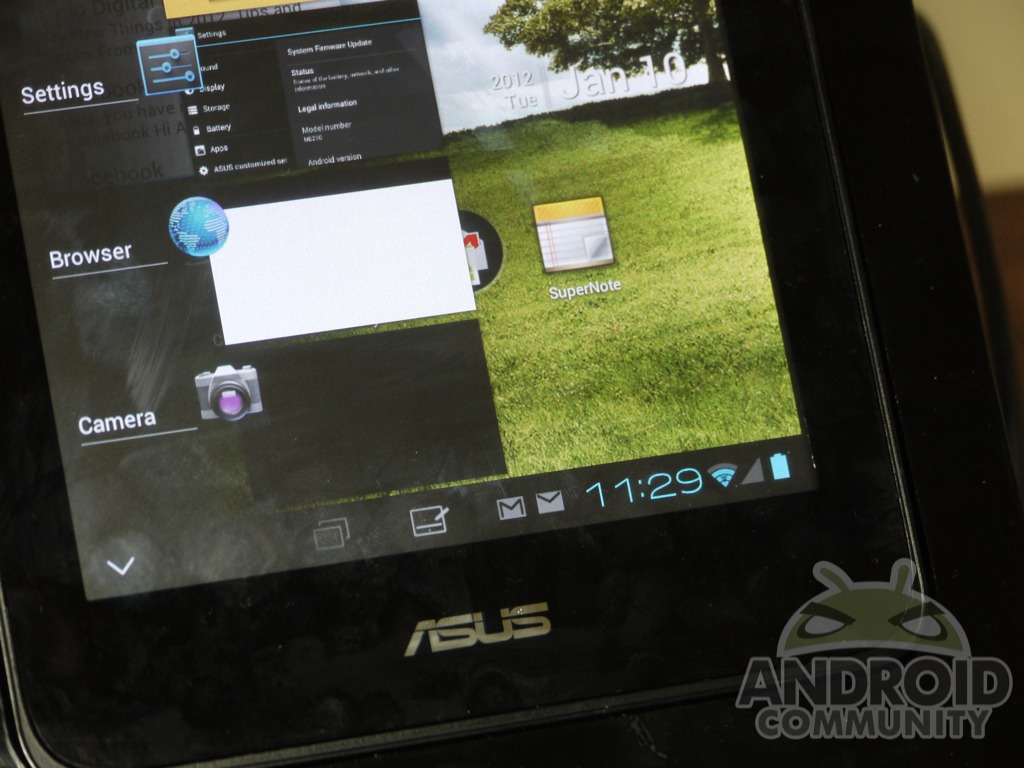 Here at CES ASUS has a few different tablets on display and we've been giving them a quick look. Sadly the ASUS Padfone is under a lock and key and we were only able to get a small glance. The brand new Android 4.0.3 Ice Cream Sandwich quad-core tablet announced yesterday in a 7″ form factor was out in public though. Check out our hands-on below.
Just announced yesterday by ASUS is the MeMO 370T although it may see a different name at launch. This 7-inch 1280 x 800 resolution slate features everything you'd want in a tablet. Android 4.0.3 Ice Cream Sandwich, the ultra-fast NVIDIA Tegra 3 quad-core processor, 1GB of RAM, front and rear cameras as well as full Android Market access and Google support. This is the first official 7″ ICS tablet. It may not be as thin as its larger brother in the Prime, but the size is the only thing making us call it the "little brother".
The most important thing here is the price — and that is $249. We'd expect the slate to be slightly lower than the Prime in the camera department to meet that price but it actually still has that impressive 8 MP camera on back. The Prime has one of the best tablet cameras around so hopefully this wont disappoint.
The brushed aluminum has been replaced by a hard plastic with the same radial-spun design as the Prime and overall I was extremely happy with the feel and performance. Obviously with the Tegra 3 the tablet is blazing fast so I don't even need to go there — although this is the first slate I've handled with a fully stable build of ICS. ASUS made clear that this was still under development but things felt ready for the green light to me. In case you didn't catch that before — this is running on Android 4.0.3 ICS.
You can see in the image above the new 7-inch slate from ASUS will have micro-usb, micro-hdmi, and also a micro-SD slot for expanded storage — something many tablets lately have been leaving out. Offering this entire package and performance for the low price of $249 has just set the bar for portable and ultra-powerful tablets. Those high priced Samsung Galaxy Tab's should be worried right about now. Expect to see this new quad-core tablets early Q2 2012.